BSA Spitfire 900 MkIV-R
Currently in the workshop
BSA Spitfire 900 MkIV-R Monterey Class
September 2021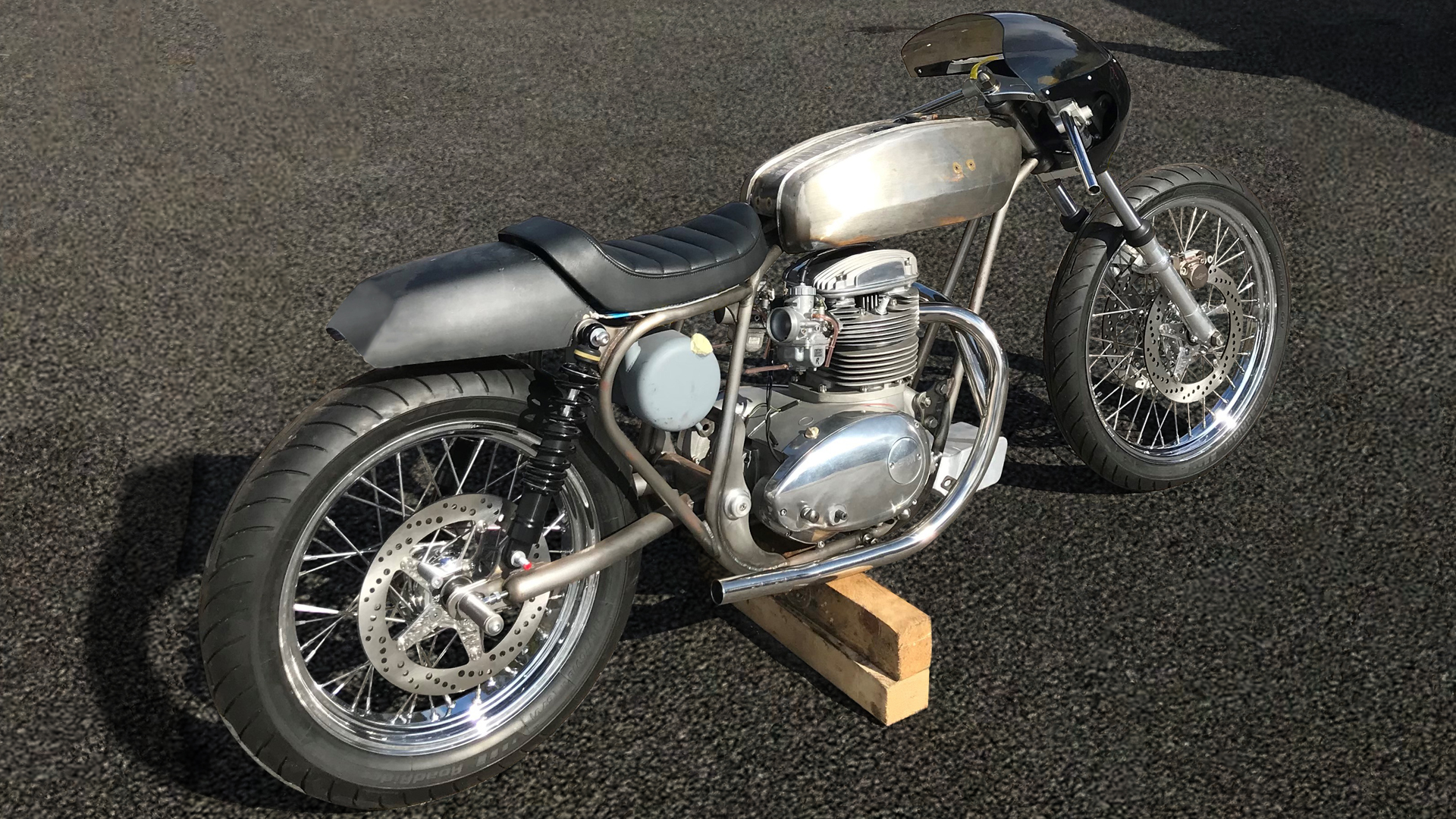 As previously recounted, in the 70's & 80's Californian petrol heads invented a new racing class, so the story goes, half way between circuit road racing and dragster style Standing Quarter Mile; that was the Standing Mile later termed "Monterey Class".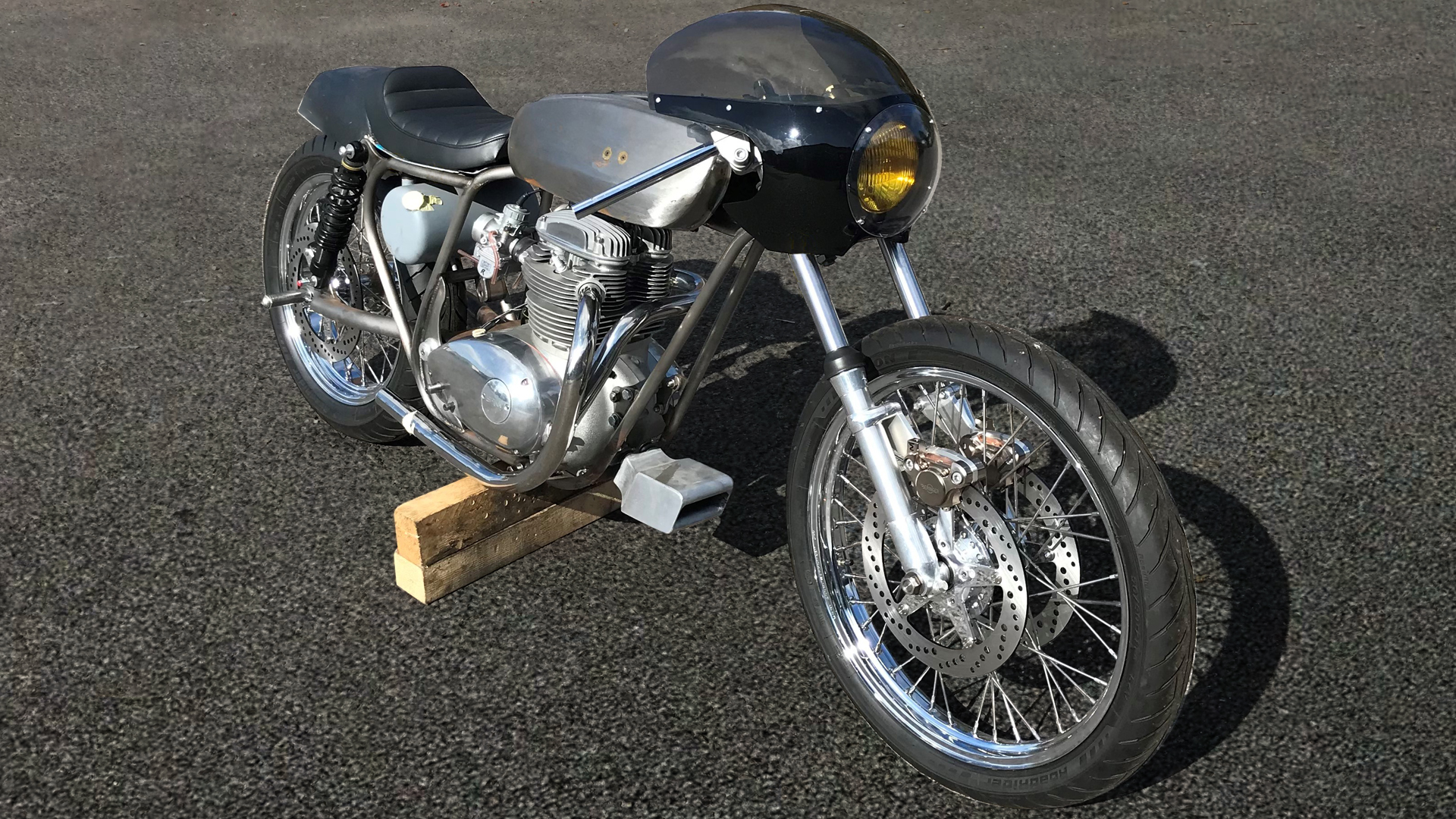 This required hybrid motorcycles half way between circuit racers and standing quarter types. So, with the recent announcement that historic British brand BSA has been bought by Indian giants Mahindra, new models bearing the BSA logo would appear in around two years' time. With that in mind, having taken a look at some of the best bikes to wear the famous badge, the iconic memory scoot hereby presented was given a new lease of life handcrafted from scratch under Jeff Duval's overseeing stewardship.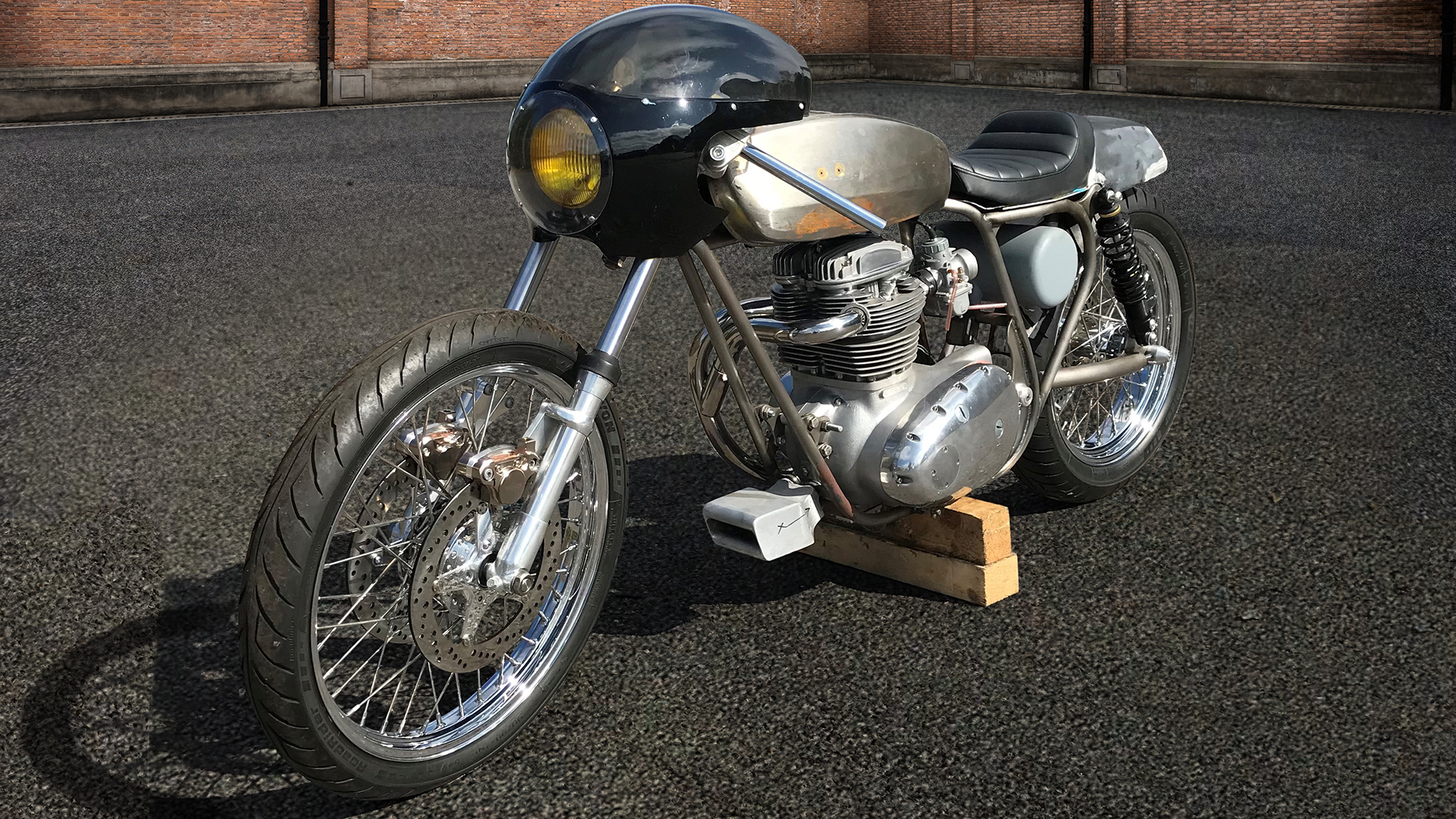 For starters, John Parry of Cobra Frames custom fabricated its famous 7/8th chromoly, 5" stretch, 37 degree rake chassis for that Monterey Class allure. On the mech side of things, a full race Spitfire 900 MkIV-R motor was commissioned and entirely rebuilt from scratch by World Class BSA performance specialists SRM Engineering's motor guru Geoff Dewhurst. Many higher tech new or custom machined parts were used; emphasising optimisation and track usability instead of all out incontrollable power!
JETS' BSA Spitfire 900 MkIV-R currently being restored to its former glory is a good example of that iconic but ephemeral "Monterey Class". More similar rebuilds in the pipeline…
Enquire about this bike
---
Technical Specs
General
Design & Build:
Design: Jeff Duval
Frame: John Parry
Motor: SRM Geoff Dewhurst
Build: Sean Reynold
Engine
Full race A65 donor engine with 750cc barrels & pistons cranked to 900cc using dynamically balanced A10 crank and rods.
Gas flowed head with competition valves, springs and rockers together with appropriate lift cams.
Crowned by a pair of muscular Amal Mk2 Concentrics, optimising useability instead of all out uncontrollable power!
Transmission
4 Speed OEM Tranny also rebuilt from scratch at the same time as the motor by said SRM Engineering.
Chassis
Handcrafted from scratch by John Parry of Cobra Frames.
7/8th chromoly, 5" stretch, 37 degree rake for that Monterey Class allure.
Suspension & Steering
Competition Ceriani 35mm adjustable front fork assy and rear shox by legendary CR Suspension Kft of Budapest HU.
Wheels & Brakes
Chromed 21" & 18" ally wire rims with S/S spokes by Apollo Wheels of Los Angeles.
Full Beringer competition brake assy and hand controls.
Iconic K-Tech 11.5 floating discs.
Instrumentation
Despite being an in depth restoration of a racing machine, Jeff and builder Sean Reynold (who organised the complex e-trics & e-tronics wiring) decided to make the scoot road legal.
Bodywork & Seating
In keeping with other new JETS classic racing projects, Jeff paid immense attention to making the project rideable by seasoned riders.
Thus he is to be credited with most bodywork finery.
Ergonomics
An iconic competition machine recrafted to be road legal and comfortably useable by seasoned riders.
Photography
The job of shooting the rolling chassis was carried out by Jeffers too!
Finish
The seriously critical job of painting this unique restoration project will be entrusted to Tom, Steve and Mandy of Image Custom Design, Camberley, who have been able to commendably replicate the style and skill that the great Jeff McCann (RiP) introduced to custom bike painting in the 90's.
Back to Showroom