FXRS East 14th Blues
Sold but still on display at...
FXRS East 14th Blues' Backstory
September 2019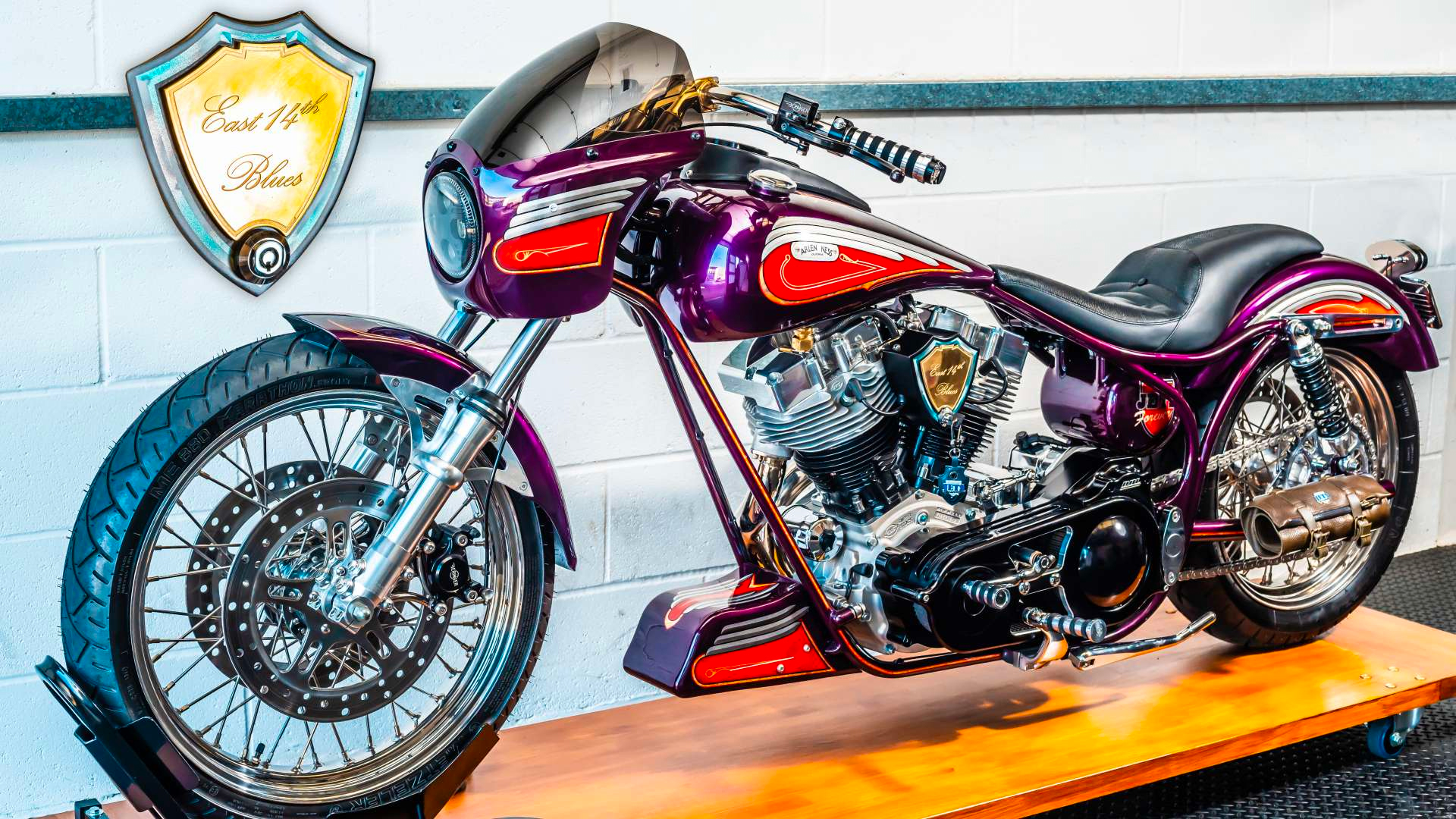 FXRS East 14th Blues
SOLD
As usual with our tribe, there is monumental history behind what is effectively a "Renaissance"!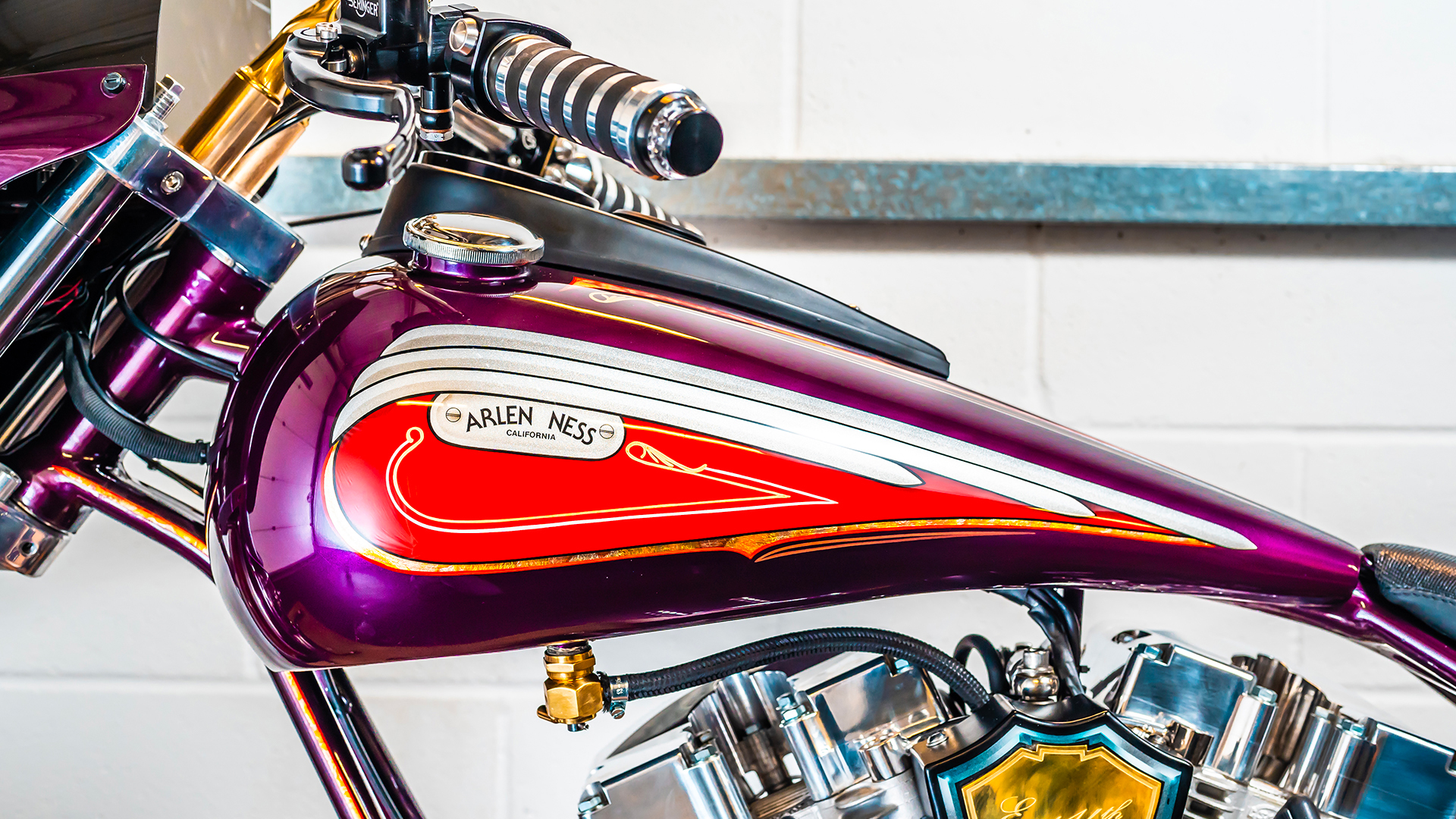 Yes, this happens to be the remnants of first bike (aka JD1) ever built by Arlen Ness 25 years ago for Jeff circa 1995! Ness 7/8th + 5" frame / double 18 / PM brakes / 4 valve heads 98ci / sporting McCann's arguably best ever glorious candy red & cream paintwork with that iconic gold & silver leaf Eagle Head on gas tank. The Jamais Vu scoot created a media storm on this side of the pond…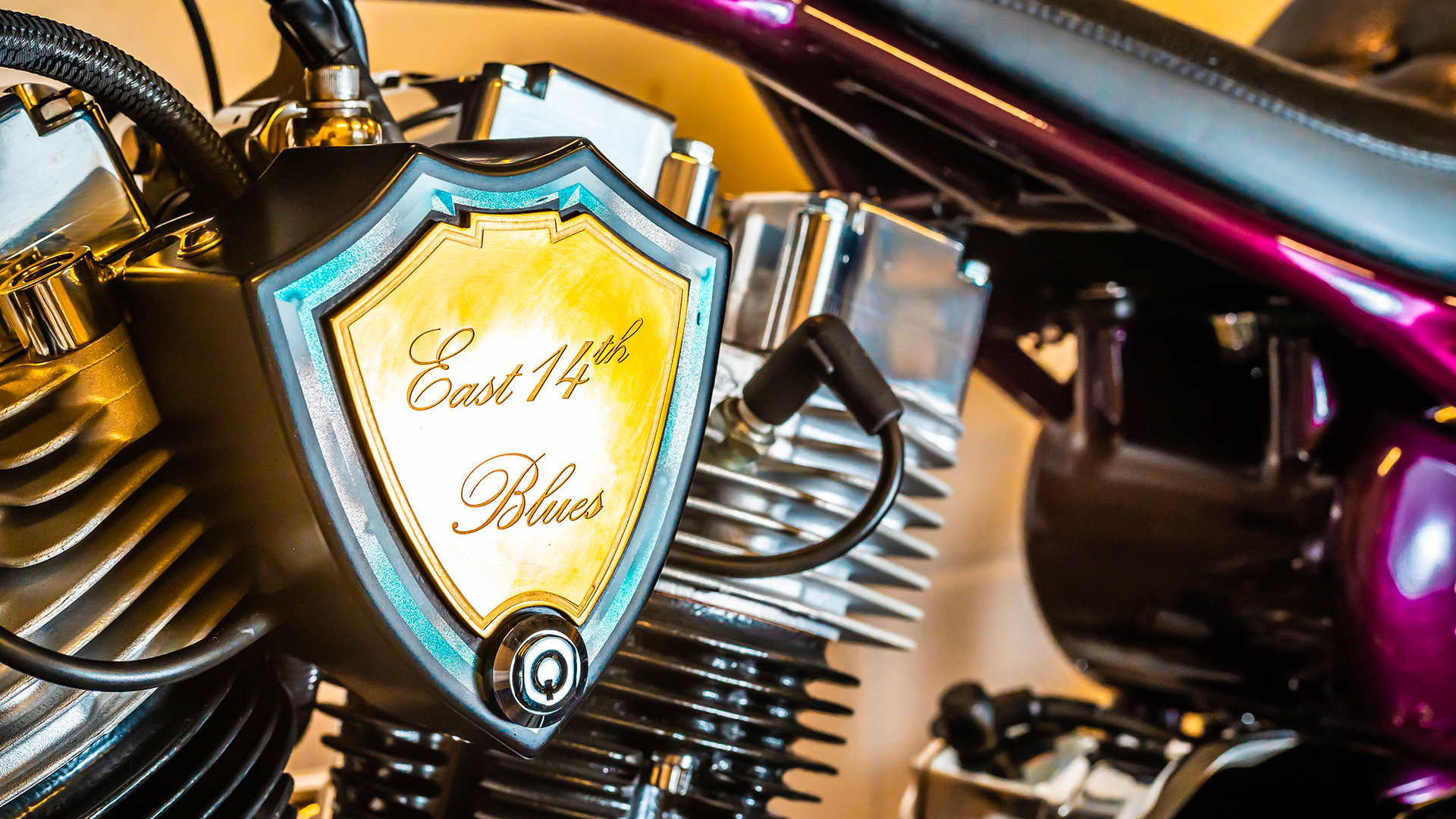 Alas, it did not have a very long road life as Rikki Battistini succeeded in badly crashing it trying to negotiate at inconsiderate speed one of our infamous roundabouts. To cut a (very) long story shorter, the bike was restored in quite a different guise under the imaginative name of JD2 () only to disappear into the various volcanos & tsunamis that took place around here over the late 90's.
Here's FXRS East 14th Blues' Gallery
You can scroll through this bike's gallery and click on any image to expand.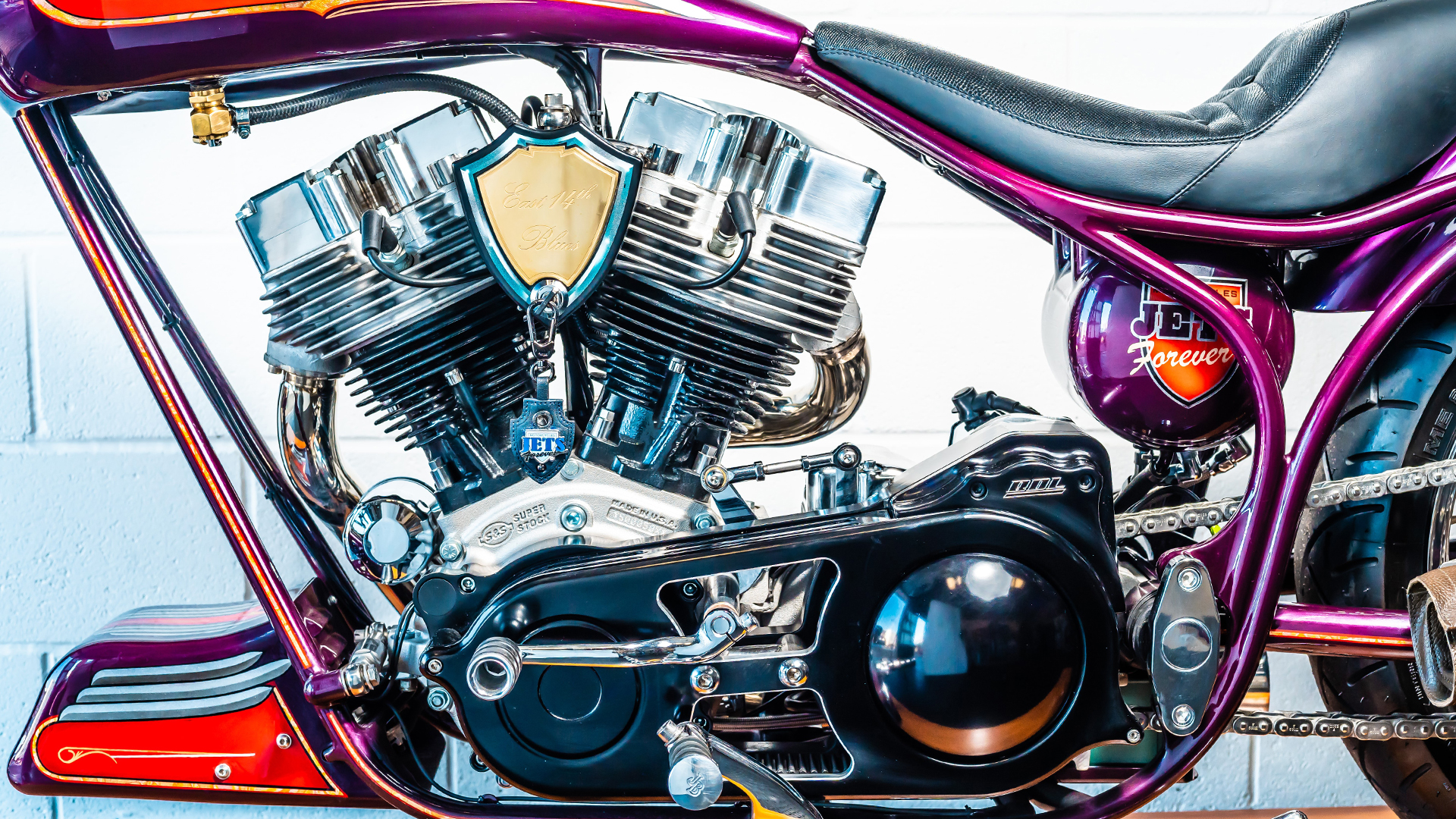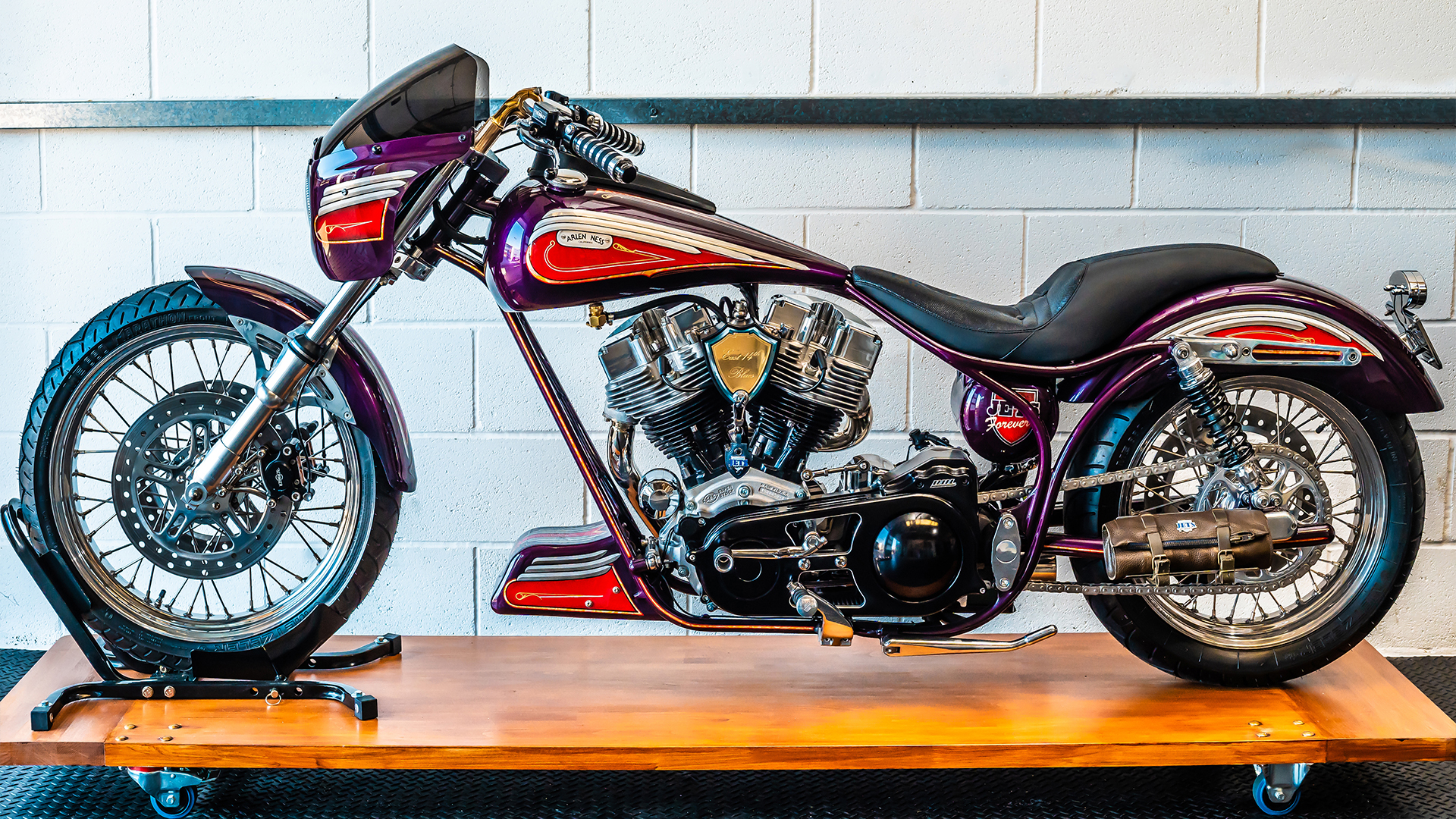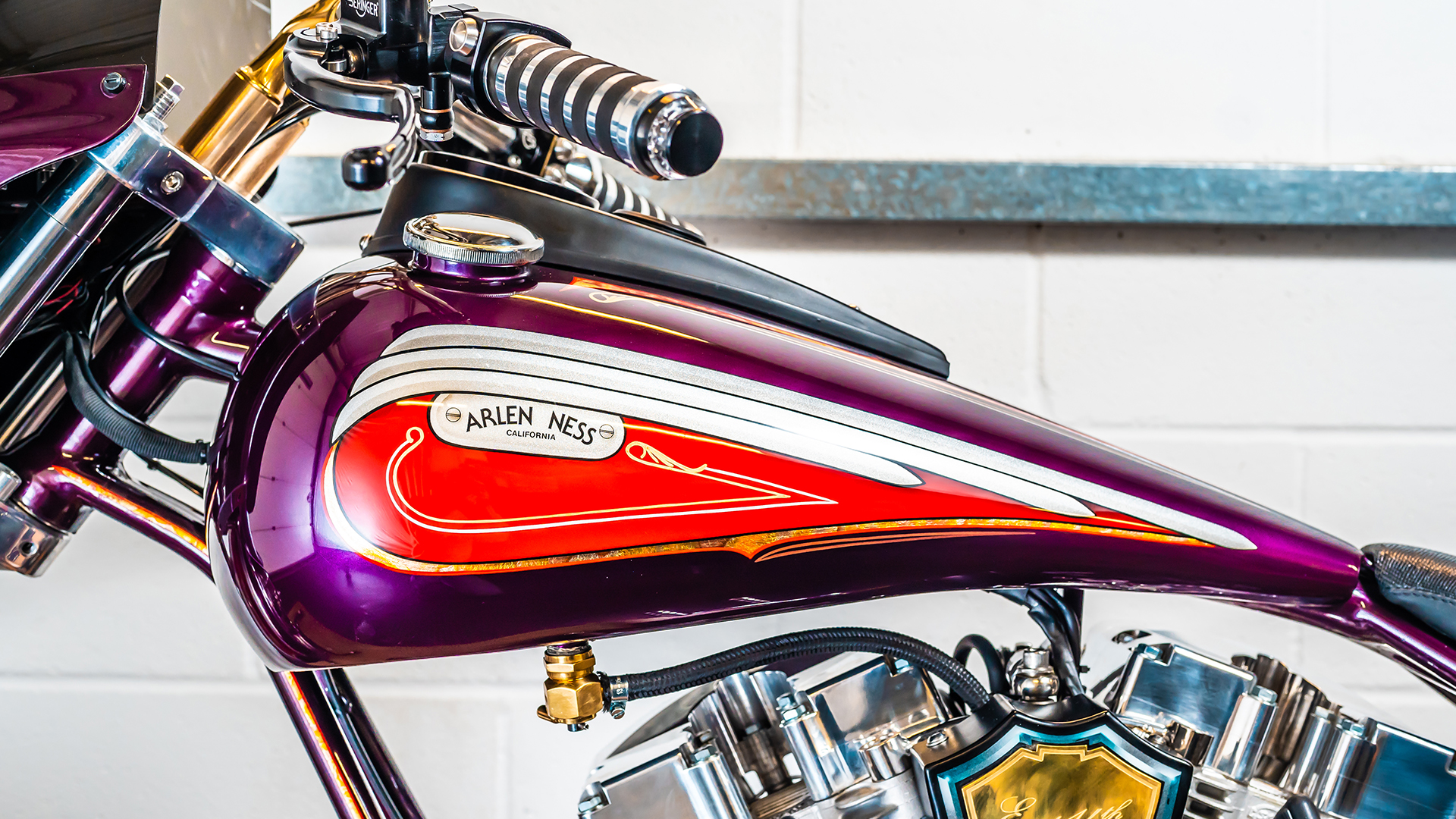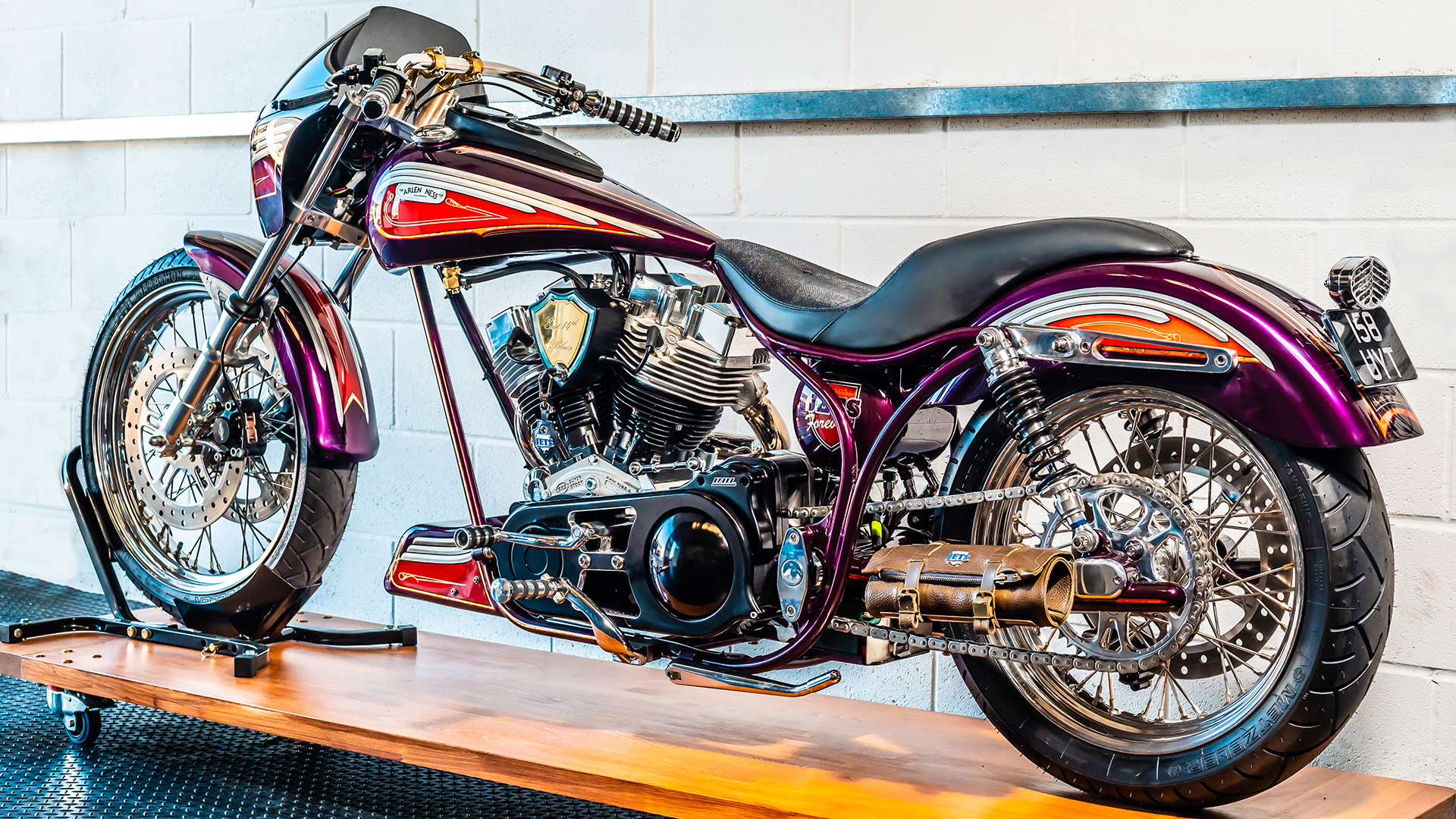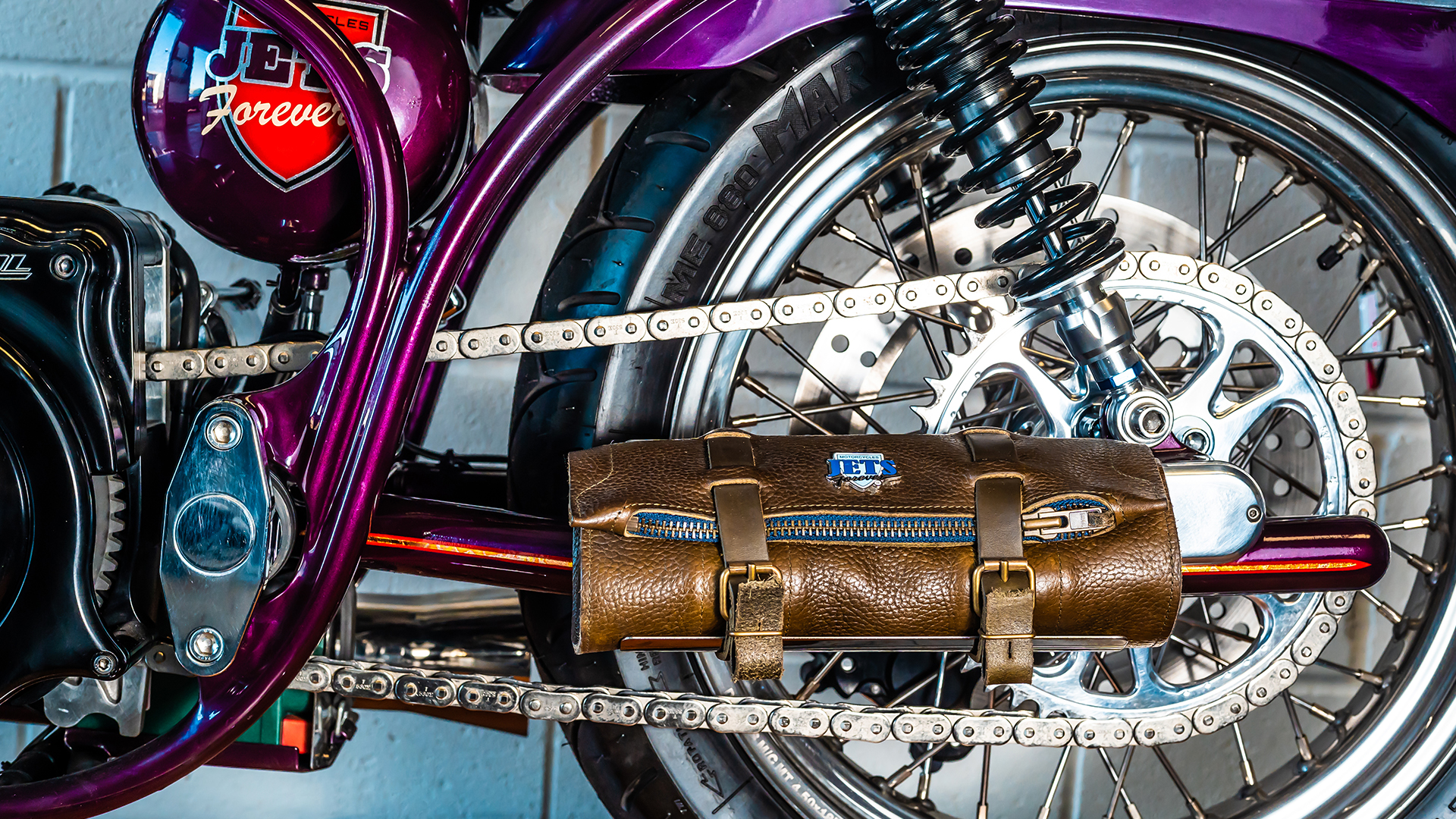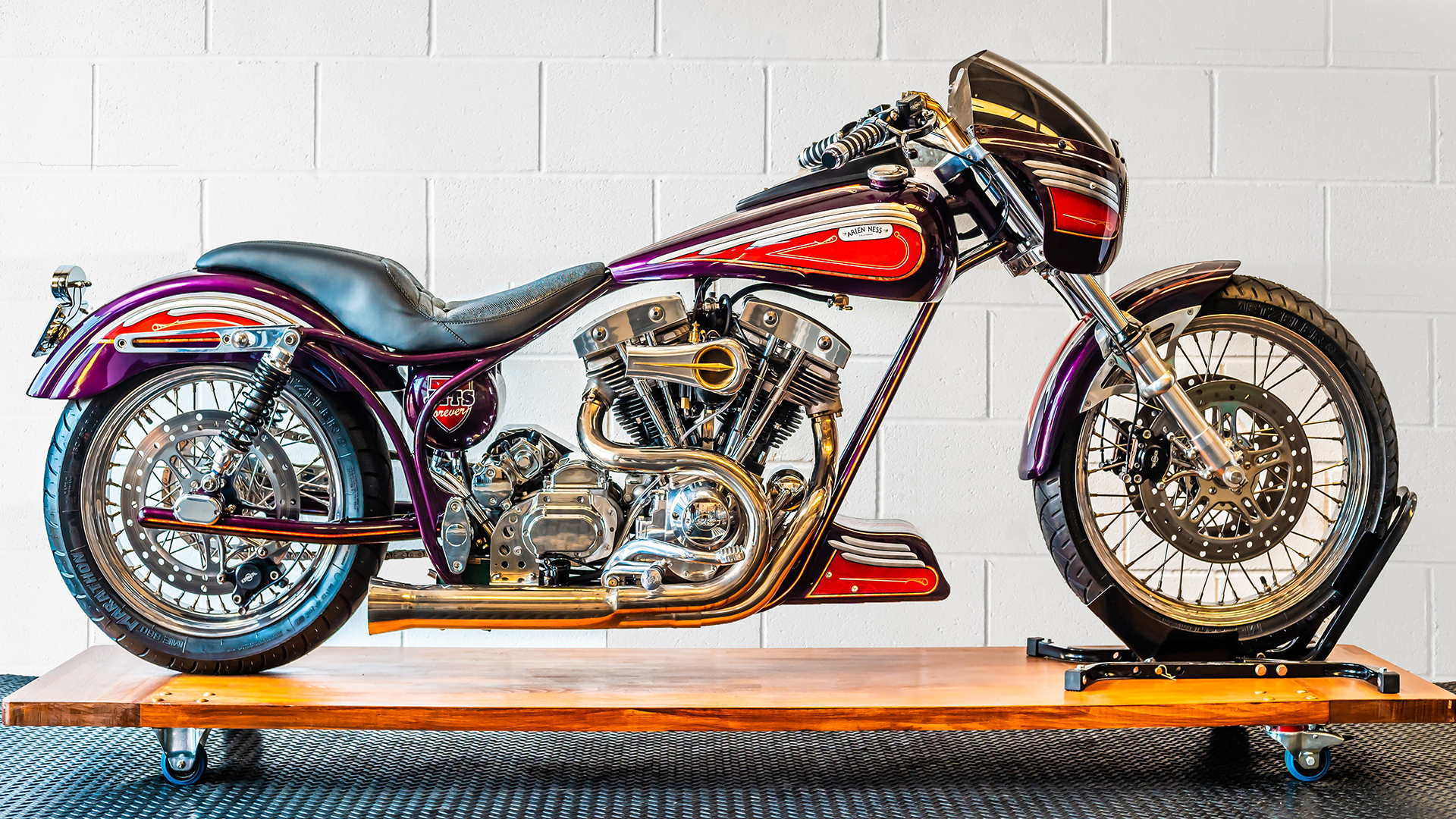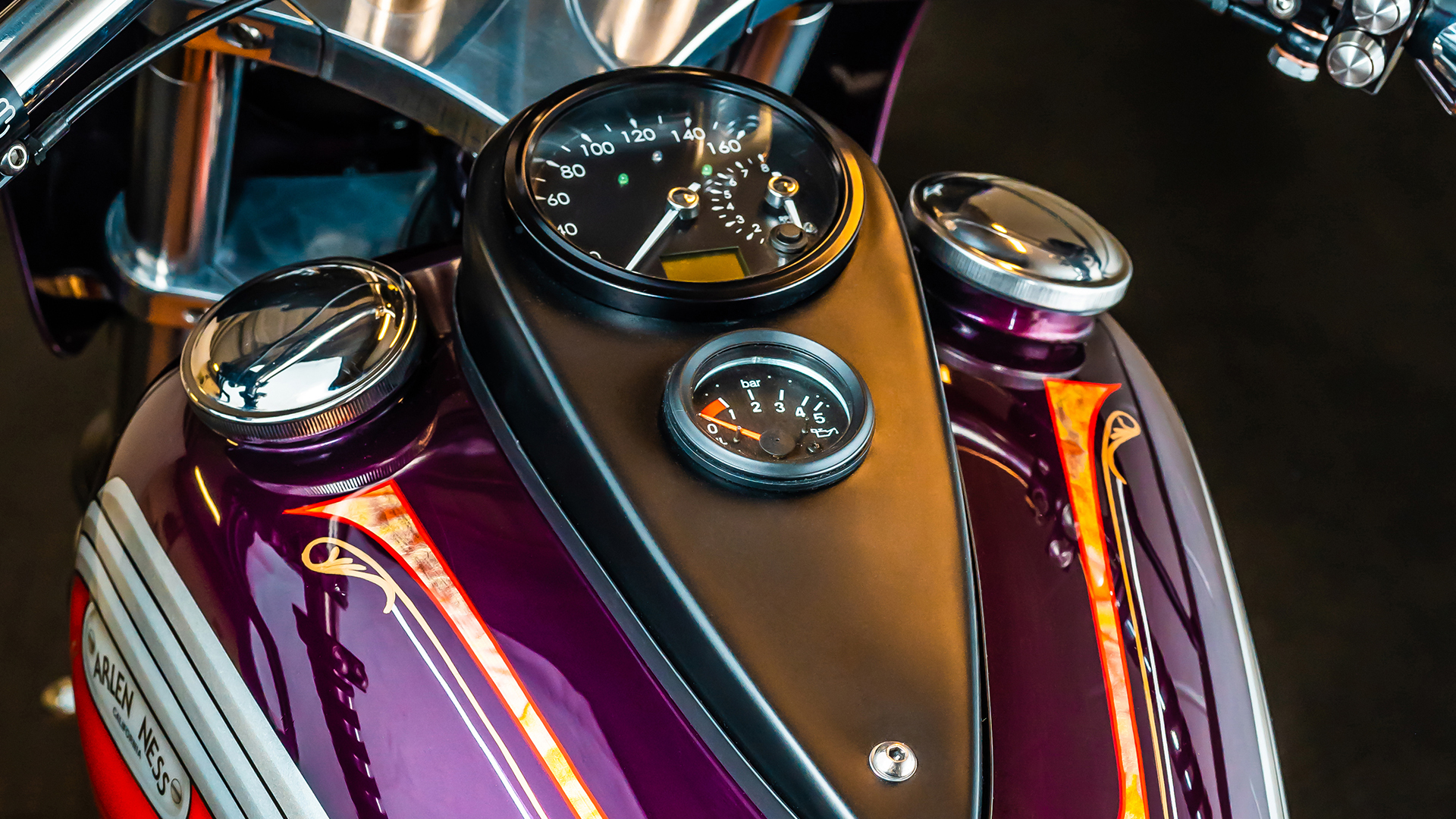 20 years forward, a call from Paint Meister Keith Baker: Jeffarz, I have somat you might recognize?
It was JD2's gas tank & fender in a restorable state!... which said Keith duly undertook to do !!!
The many other craftsmen who then contributed to this renaissance are: John from Cobra Frames; Chris, Dave & Davey from P&D Customs; Csaba & Laszlo From CR Suspension, Etienne & Severine from Beringer Brakes; Tony from Stigs Custom Paint who completed the repaint following Keith's initial restoration job &, last but not least, the Soopa PDI guru Mick of Moore Speed Racing.
Enquire about this bike
---
Technical Specs
General
Designed by Ness & Duval. Built by P&D Customs Team aided in this missionary task by all the top artisans listed in the description above.
Engine
New 103ci Shovel by S&S.
Ness vintage 2-1 exhaust line replica handmade by P&D's Dave Batchelar.
Transmission
EVO 5 Speed housed into polished Delkron cases.
BDL belt primary drive & chain final drive for that classic feel.
Chassis
Custom frame designed & built from scratch by John Parry of Cobra Frames.
Classic chromoly 7/8th tube 5" stretch & 37 degree rake.
Suspension & Steering
Ceriani competition forks & rear shox supplied by CR Suspension of Hungary.
Custom midglide trees & drag bars by P&D Customs.
Wheels & Brakes
Polished S/S wheels by TTS, 18 x 4.25 rear / 21 x 3.00 front.
Beringer racing kit: 2AP11 calipers, M/C's & Controls.
13" Ricks' Seven Sins rotors.
Instrumentation
Speedhut 4" Dual Gauge - 160mph GPS Speedometer.
8K Tachometer.
OEM Oil pressure gauge.
Motogadget control buttons.
Bodywork & Seating
Bodywork is a happy mélange of Ness classic lines & hand made parts from P&D Custom & Cobra Frames.
Ergonomics
It'll grow on ya…
as Arlen used to say!
Photography
Young Csaba Winter of hello@fiveflowmedia.co.uk
mentored by a forever uncompromising Jefferz!
Finish
Paint McCann / Baker / Stigs.
Bikes built from scratch take a long time to settle. Thus MSR Poole's PDI Guru Mick will always oversee finals.
Back to Showroom