FXRST Saratoga
Sold but still on display at...
FXRST PROVA 113ci Saratoga
September 2020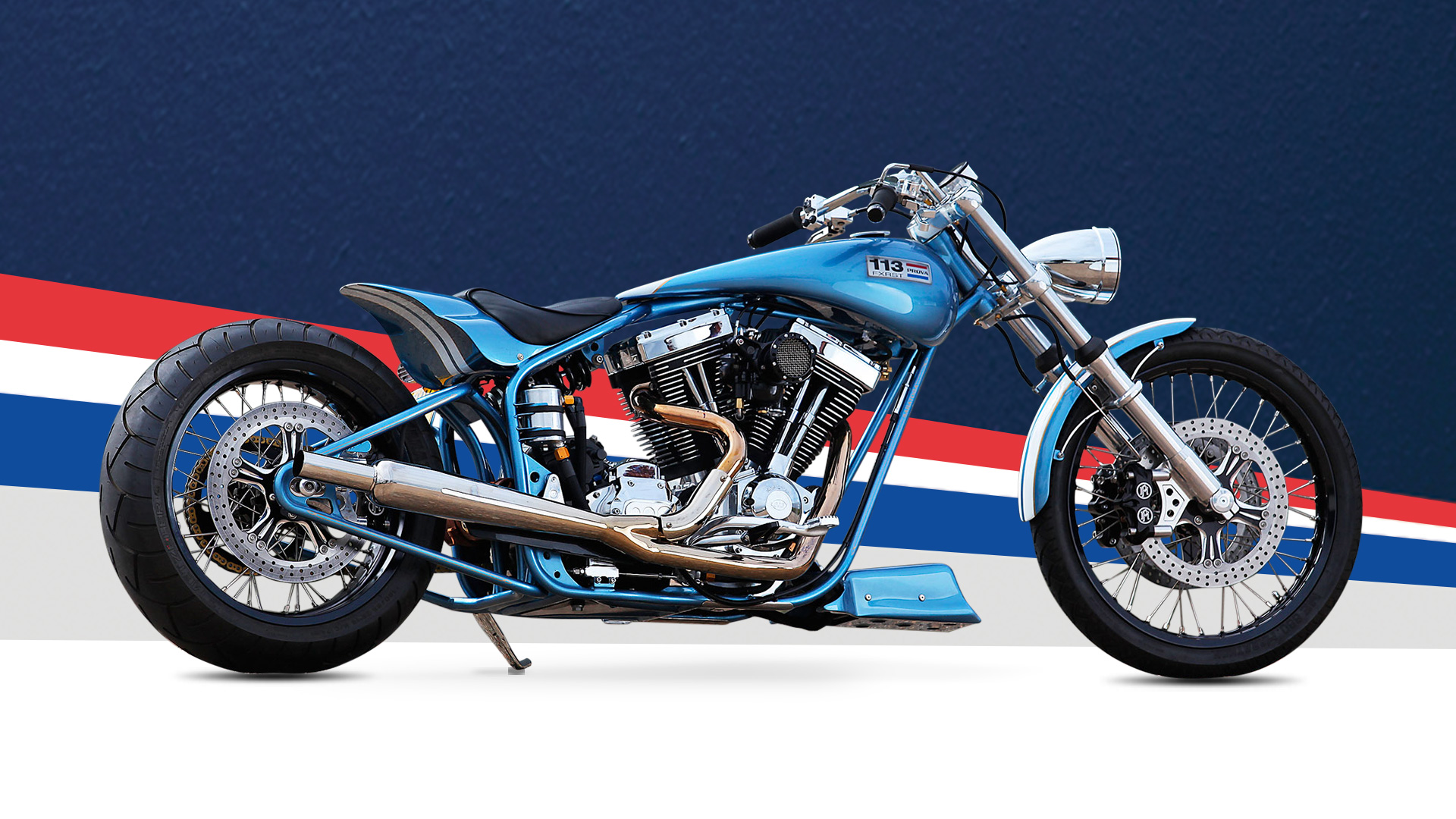 JETS's prototype rendering of a rubber mounted Softail frame with spinal rear suspension set up.
Another Monterey Class Series racer from the San Francisco Bay Area when motorcycles were still looking like ones…
The idea of designing an FXRST (FX Rubbermount Softail in US parlance…) custom fabricated by Cobra Frames as per our 30 year association with them, stemmed from Arlen Ness' own attempt to do this type of spinal suspension in the celebrated 90's.
Here's FXRST PROVA 113ci Saratoga's Gallery
You can scroll through this bike's gallery and click on any image to expand.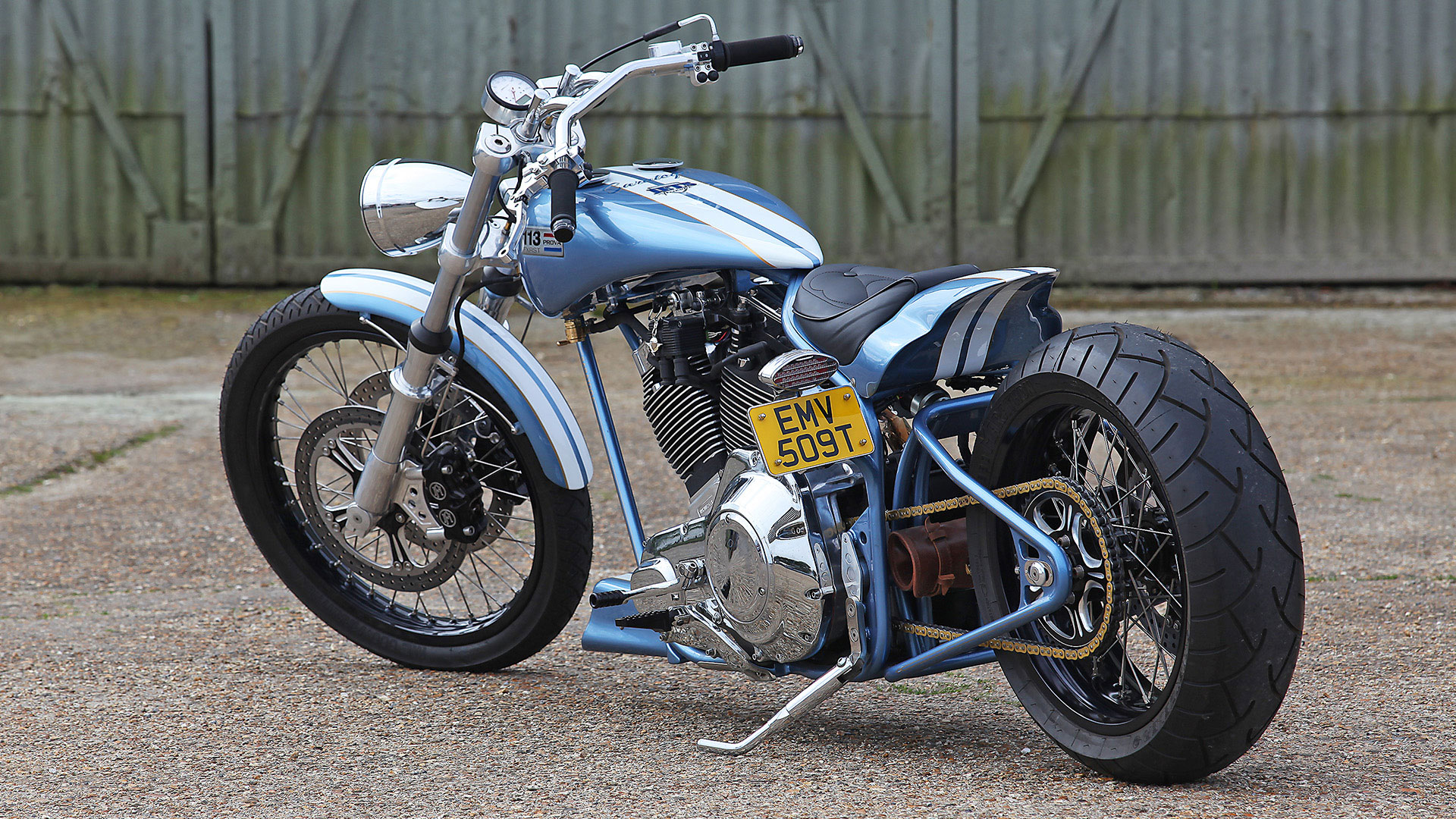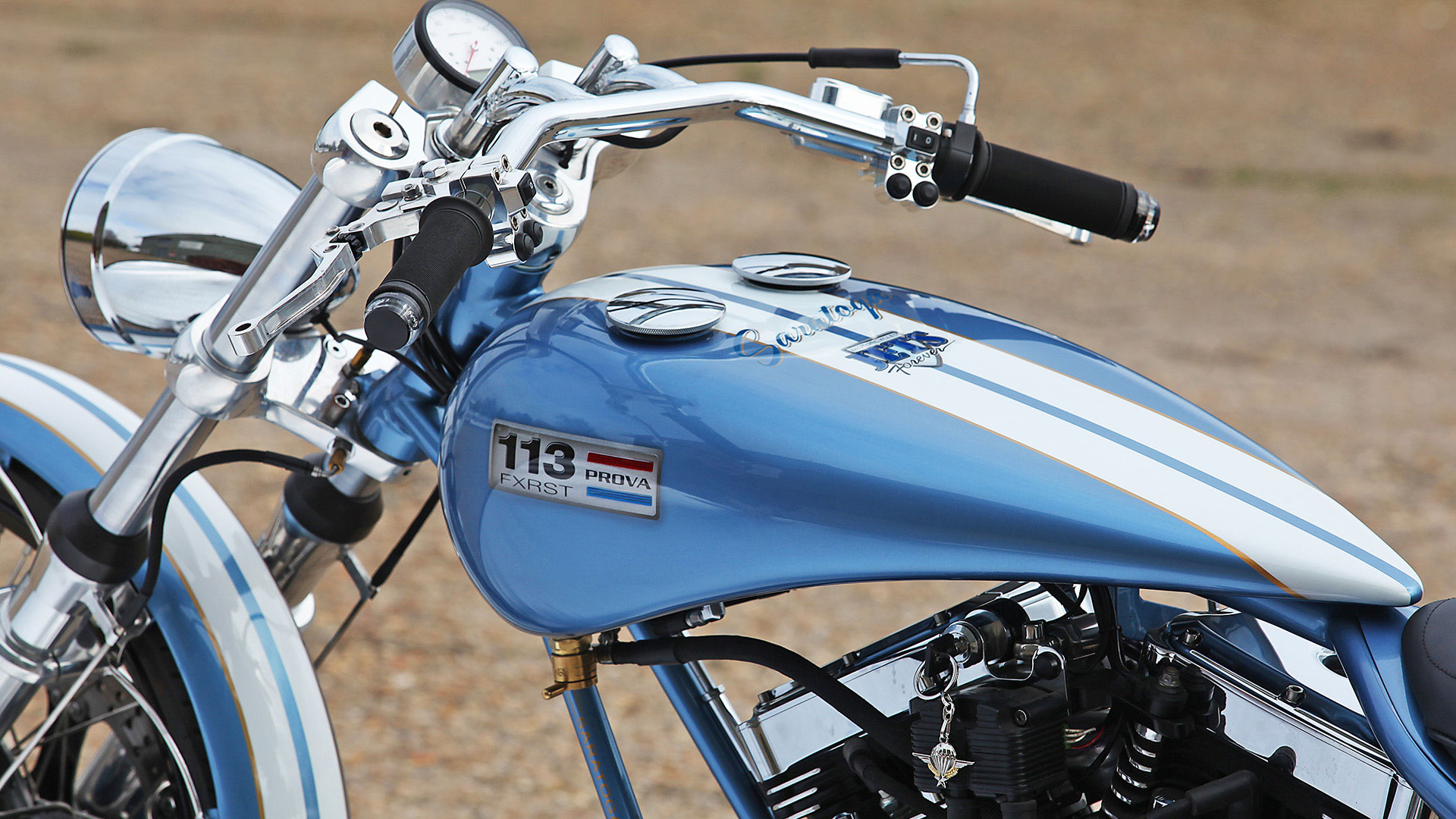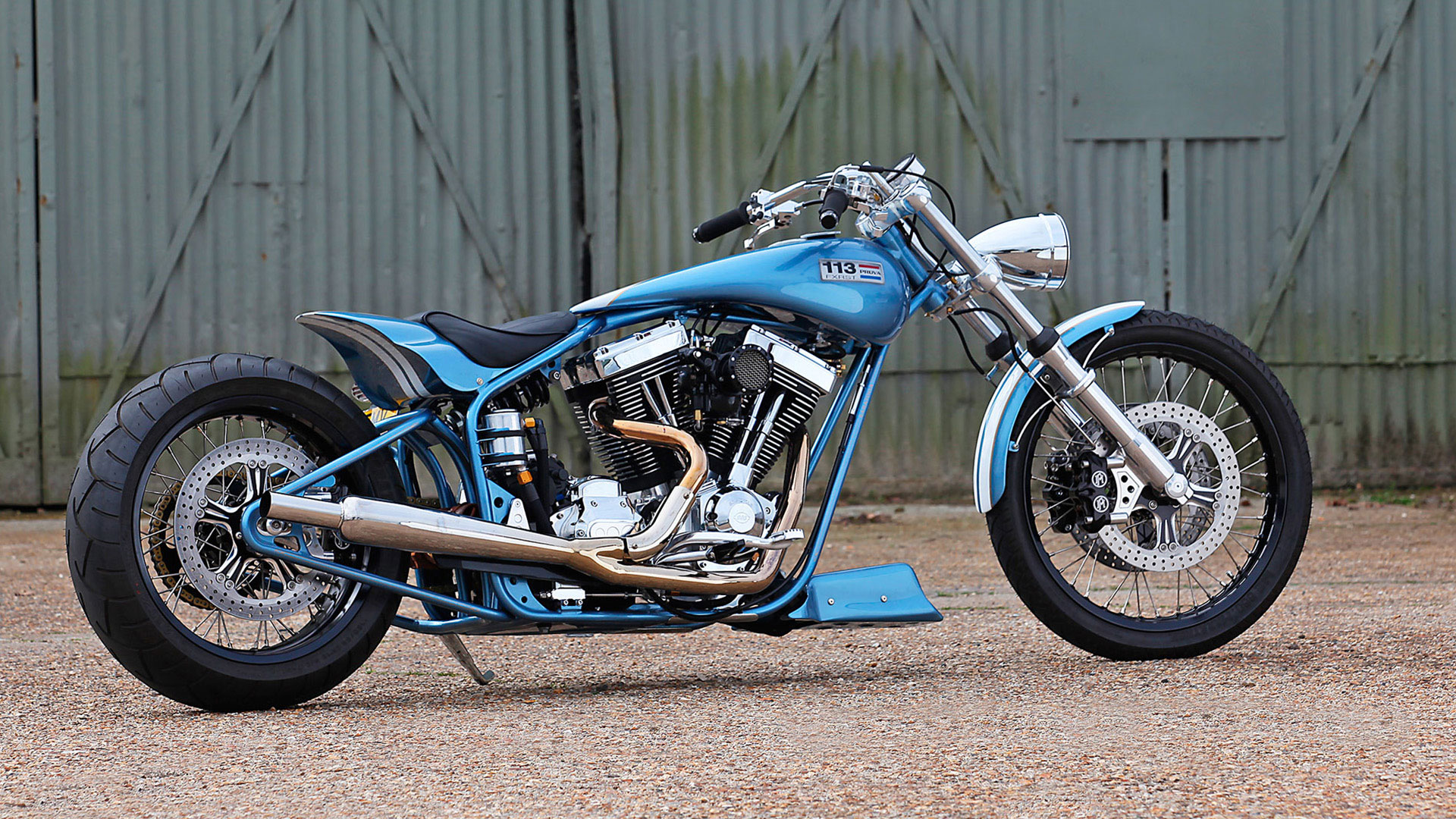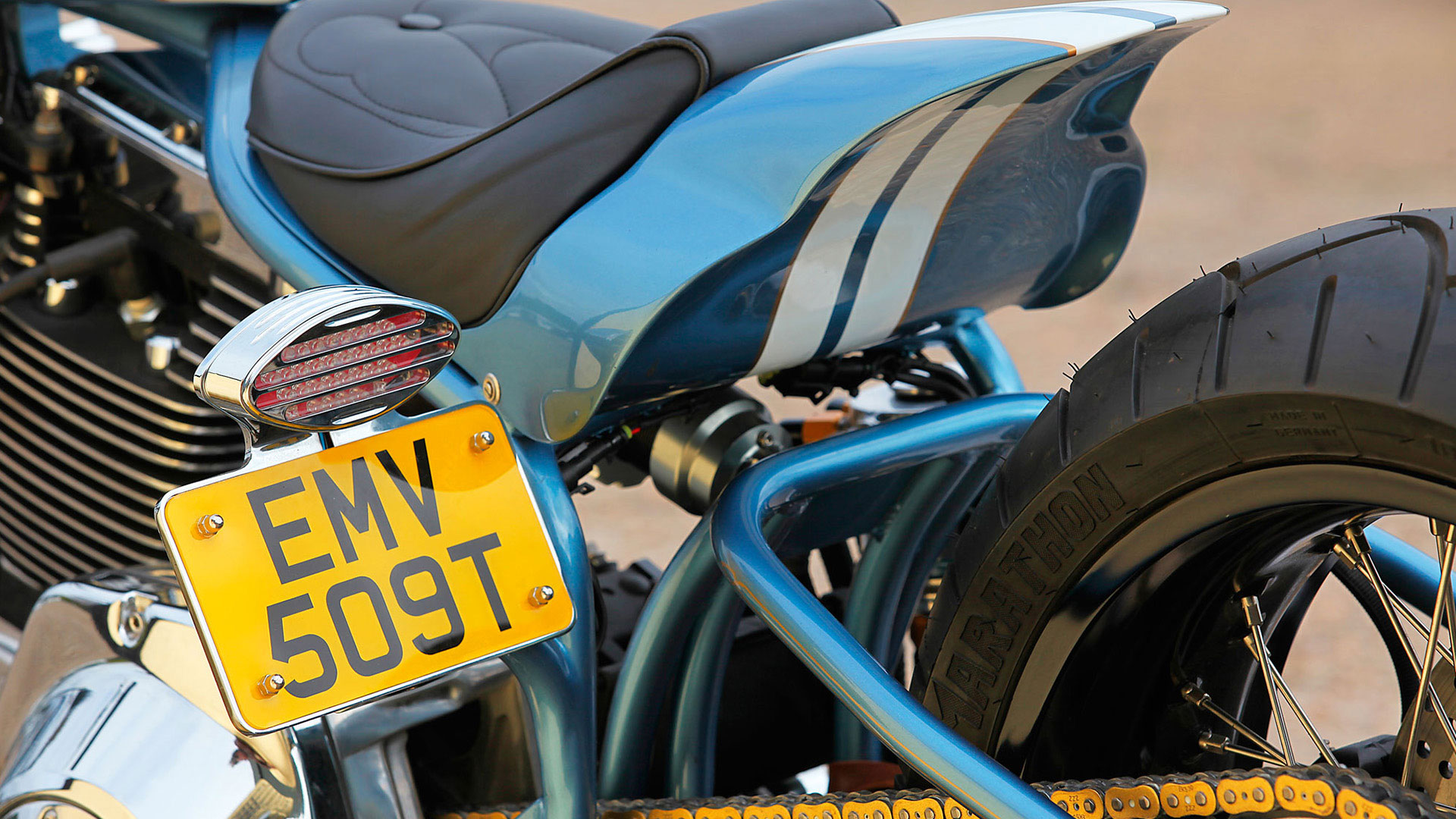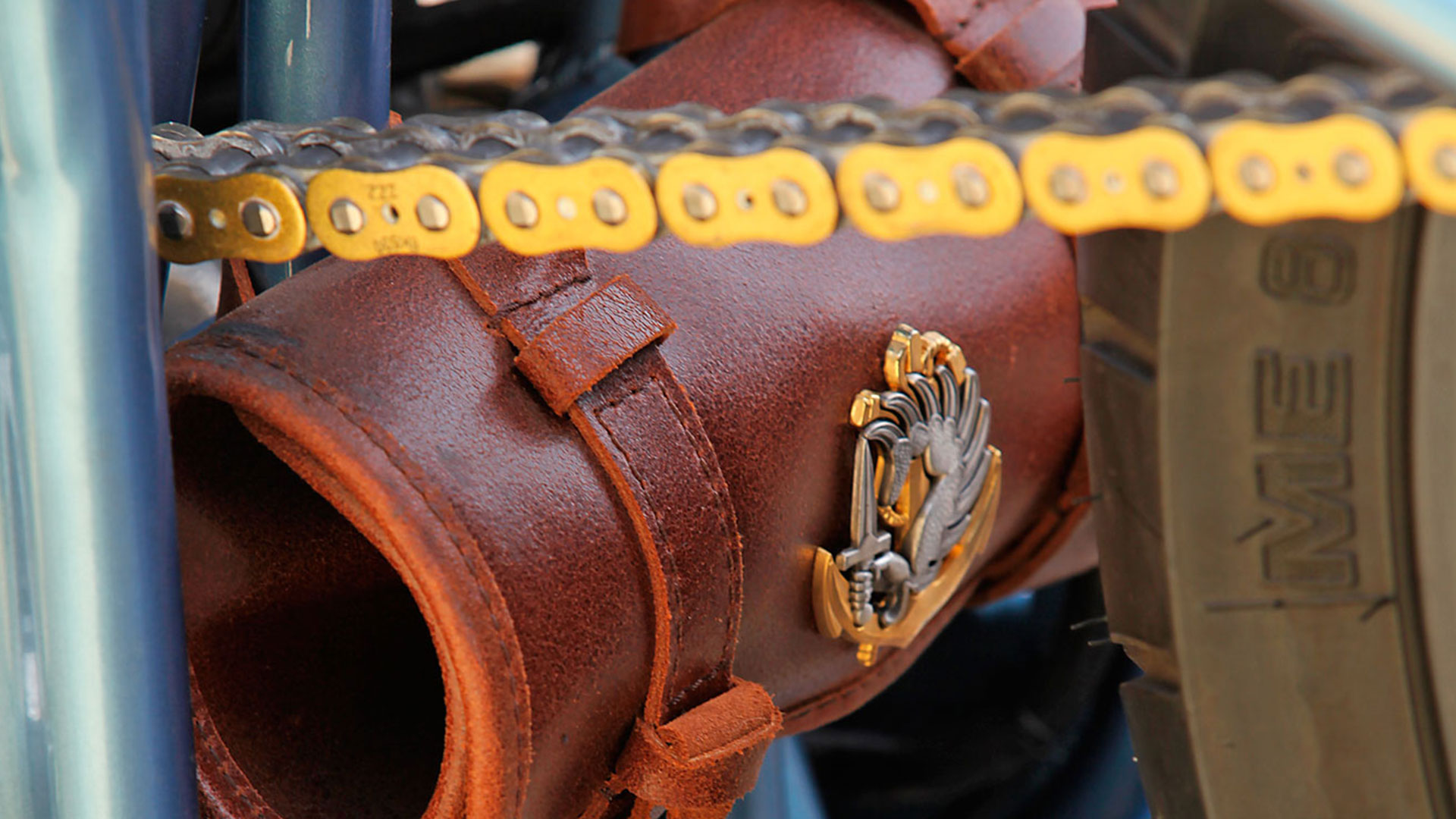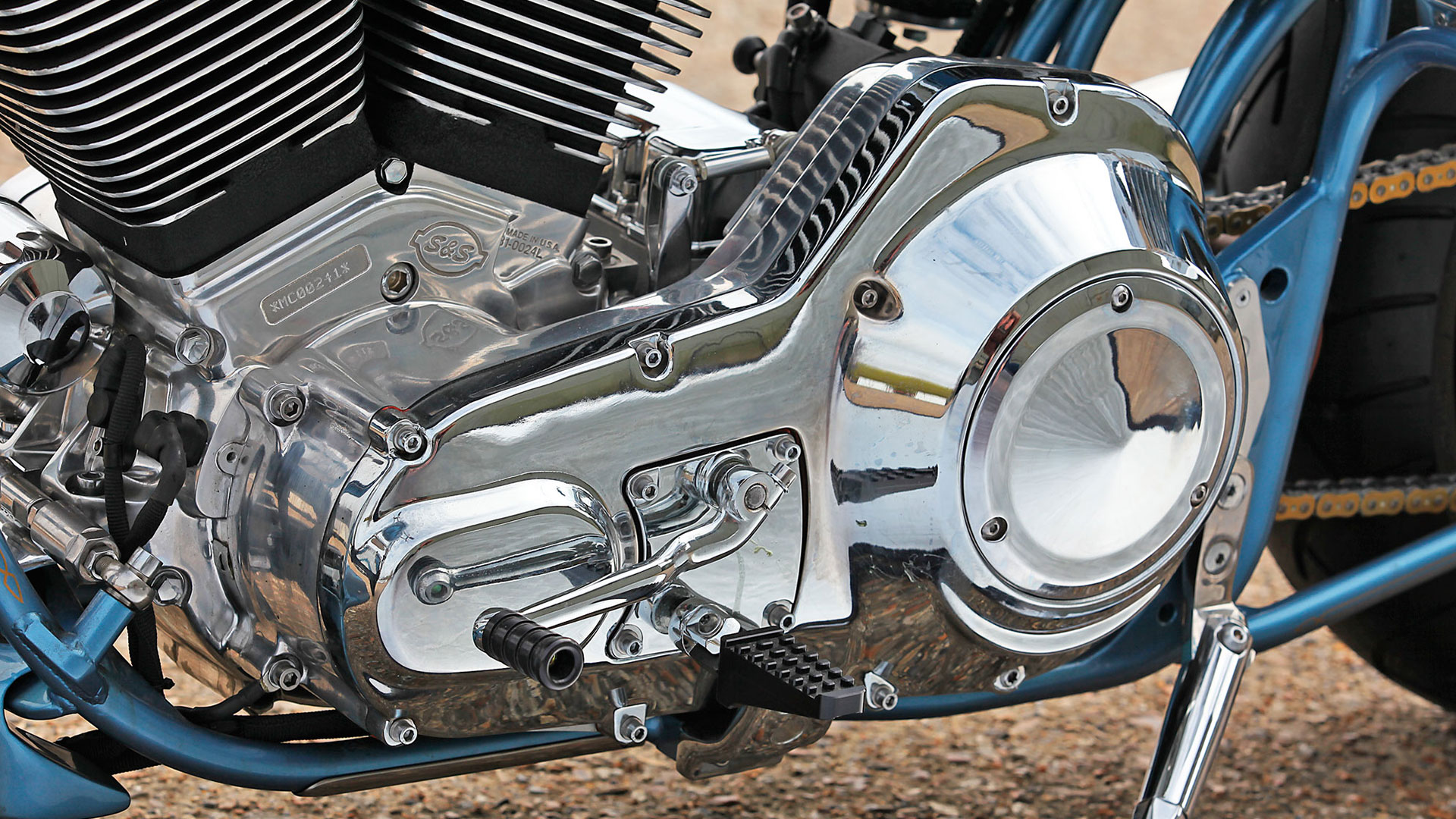 Ness' concept was working but we thought we could learn from them and go a step better, which we did and PROVA (the term used by Ferrari racing prototypes in Modena to do road tests on public roads!) Saratoga was born.
The basic improvement over the original is a competition spinal shock absorber mated to a triangular swingarm with spherical bearings to allow the engine to move and absorb most vibrations through the front and top rubber mounted motor mounts. Incidentally, Harley Davidson has since adopted this system but to suggest that they copied Ness and/or JETS would be a grossly pretentious step too far.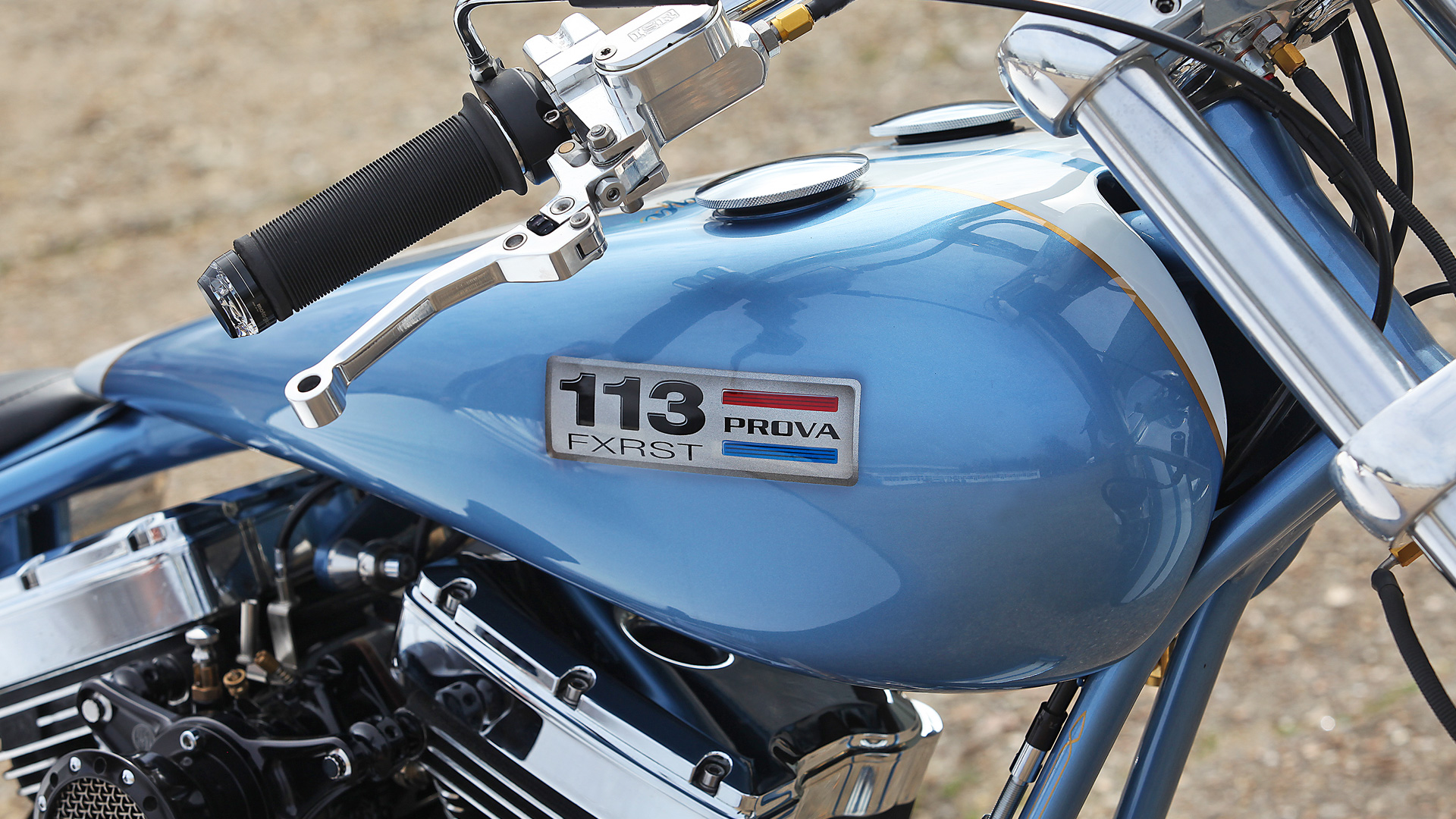 The other defining feature is the subtle work of Paintmeister Bertie Dubet, one of JETS founder members.
He and I agreed that we would pursue the Less is More principle by shadowing closely the dramatic and iconic Carol Shelby 427 Cobra also featured here.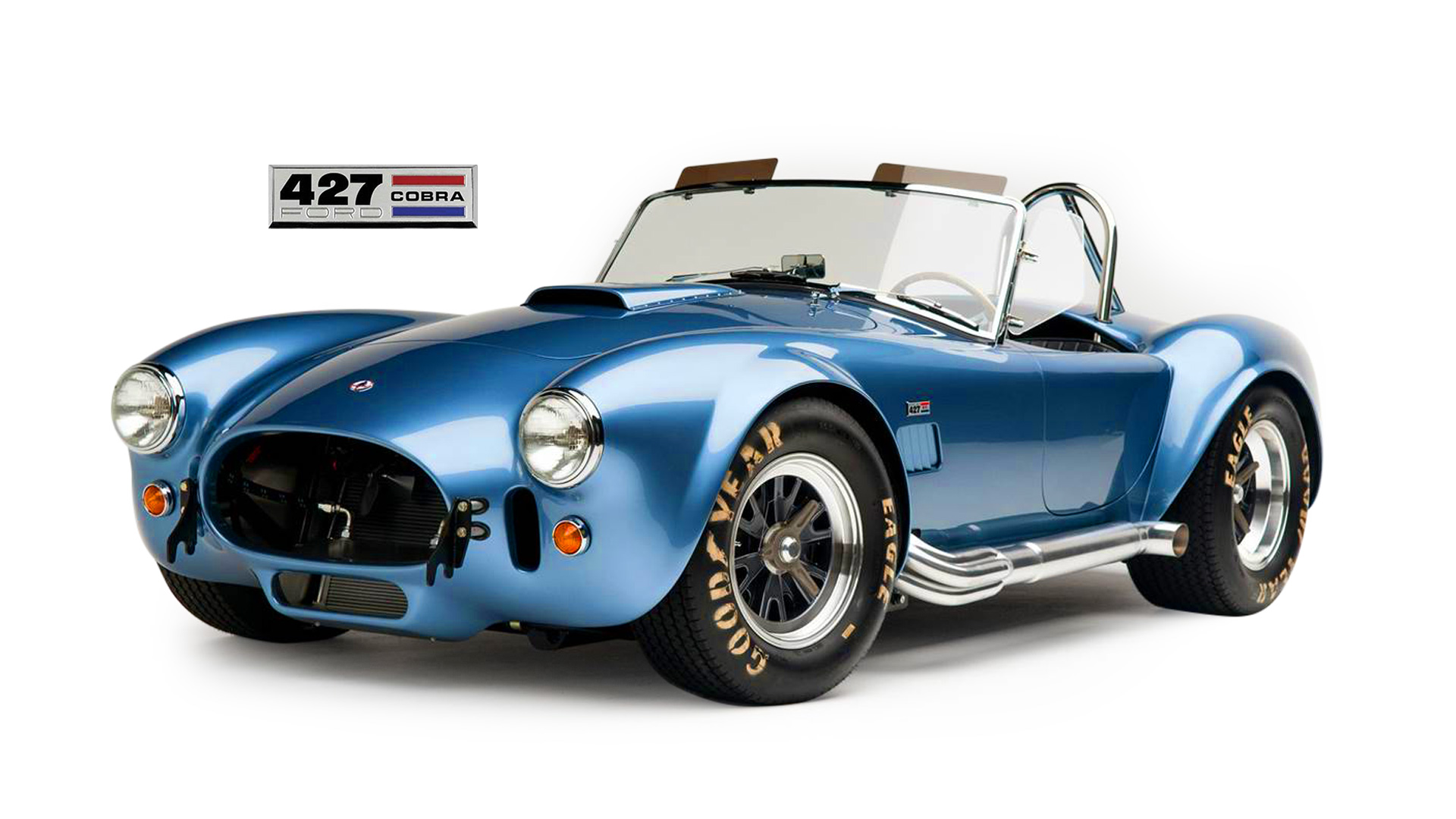 The overall construction and assembly was entrusted to engineer extraordinaire Jason Handcock who has since deemed fit to move to higher planes and become an aircraft engine specialist.
The scoot's home is now Milwaukee Twin Harley Davidson Metz in Eastern France whose Gilles Sliwinski and Aurelien Pierrot are also JETS founder members. Honni soit qui mal y pense as we say here…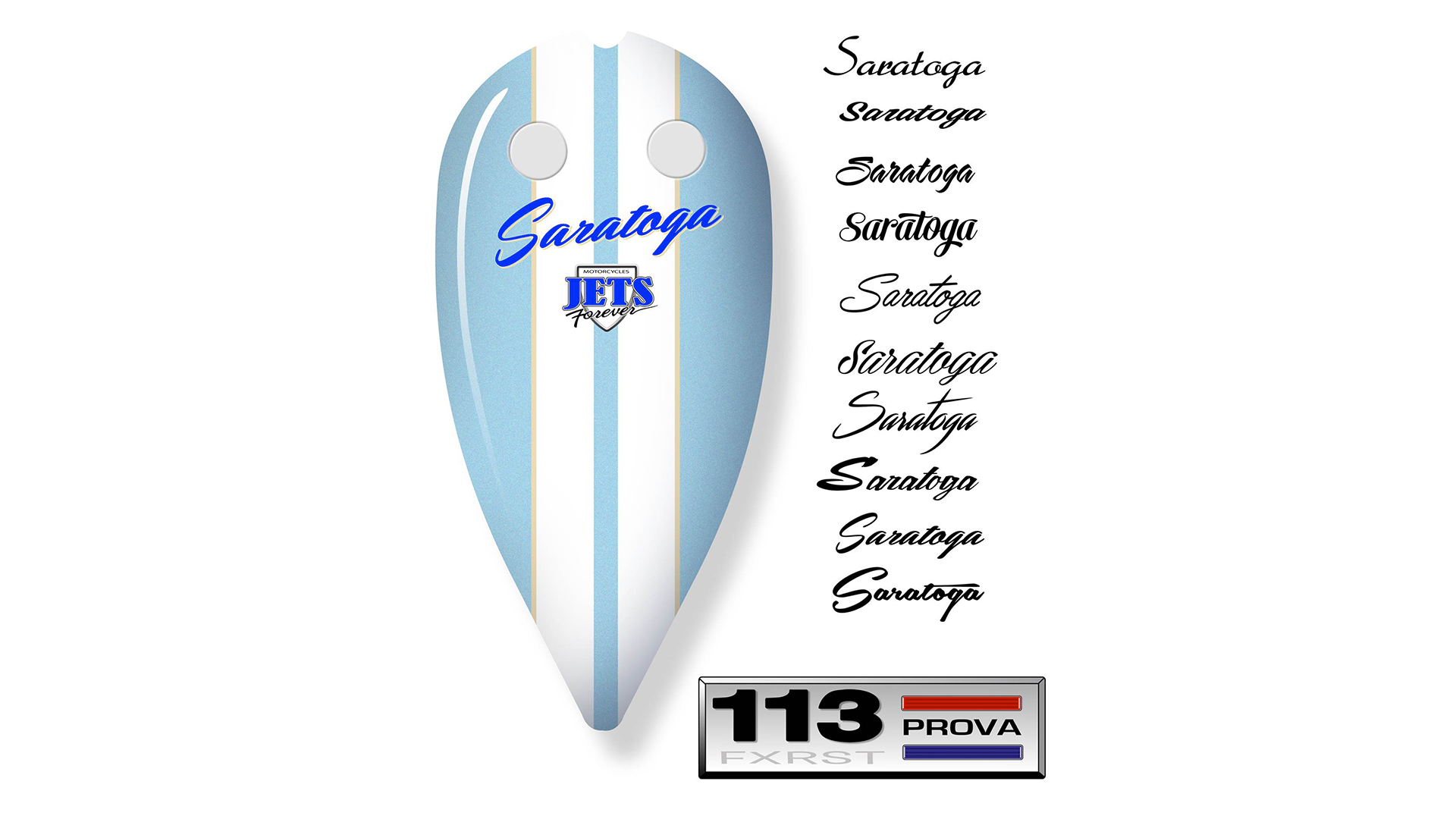 Enquire about this bike
---
Technical Specs
Design & Build:
Hancock / Duval
Engine
S&S 113 cubic inches (1,850 cc); V-Twin; S&S Super G Carb; automatic decompressors and intelligent timing adjustments
Power
Torque: 110 Foot Pounds @ 4,000 rpm; Horsepower: 110 BHP @ 5,500 rpm
Transmission
5 Speed Baker internals; Delkron Housing; w/standard primary and Eazy clutch for that vintage feel
Chassis
One off 7/8" chromoly tubing FXRST frame by John Parry of Cobra Frames; Many mods by Jason Hancock
Suspension & Steering
Yokes: Billet custom mid glide; Front: Billet Custom 39mm forks both by Jason Hancock. Rear: Single spinal shock absorber by Maxtons mated to spherical axle bearing swingarm enabling vertical rubber mounted front engine movement
Wheels
Black anodised alloy rim w/SS spokes; custom hubs by Jason Hancock; Front: 2.25" x 21"; Rear: 5.5" x 18"
Brakes
PM Radial mount black anodized calipers w/matching 13" PM discs front and rear; total ISR hand controls
Lighting
5.75" billet headlamp; Arlen Ness tail lamp; Motogadget indicators; Motogadget "black box"
Instrumentation
Motogadget 80mm speedo; Neutral; Oil Pressure; High-Beam; Direction indicators
Geometry
Wheelbase: 98" (2489 mm); Seat height: 26" (660 mm)
Bodywork & Seating
Aluminium tank by Simon Parker; all other bodywork by Jason Hancock, seat: Alan Smith of Saxon Seating
Ergonomics
Custom foot & toe pegs; Custom hand-grips
Finish
Glorious paint by Maestro Bertie Dewbett, aka Picasso of Odyssey's fame; chrome by Russell of Silvabronz; polishing by Steve of Phoenix Metal Finishers
Back to Showroom