FXRS 88ci Sundance
Sold but still on display at...
Sundance's Backstory
May 2020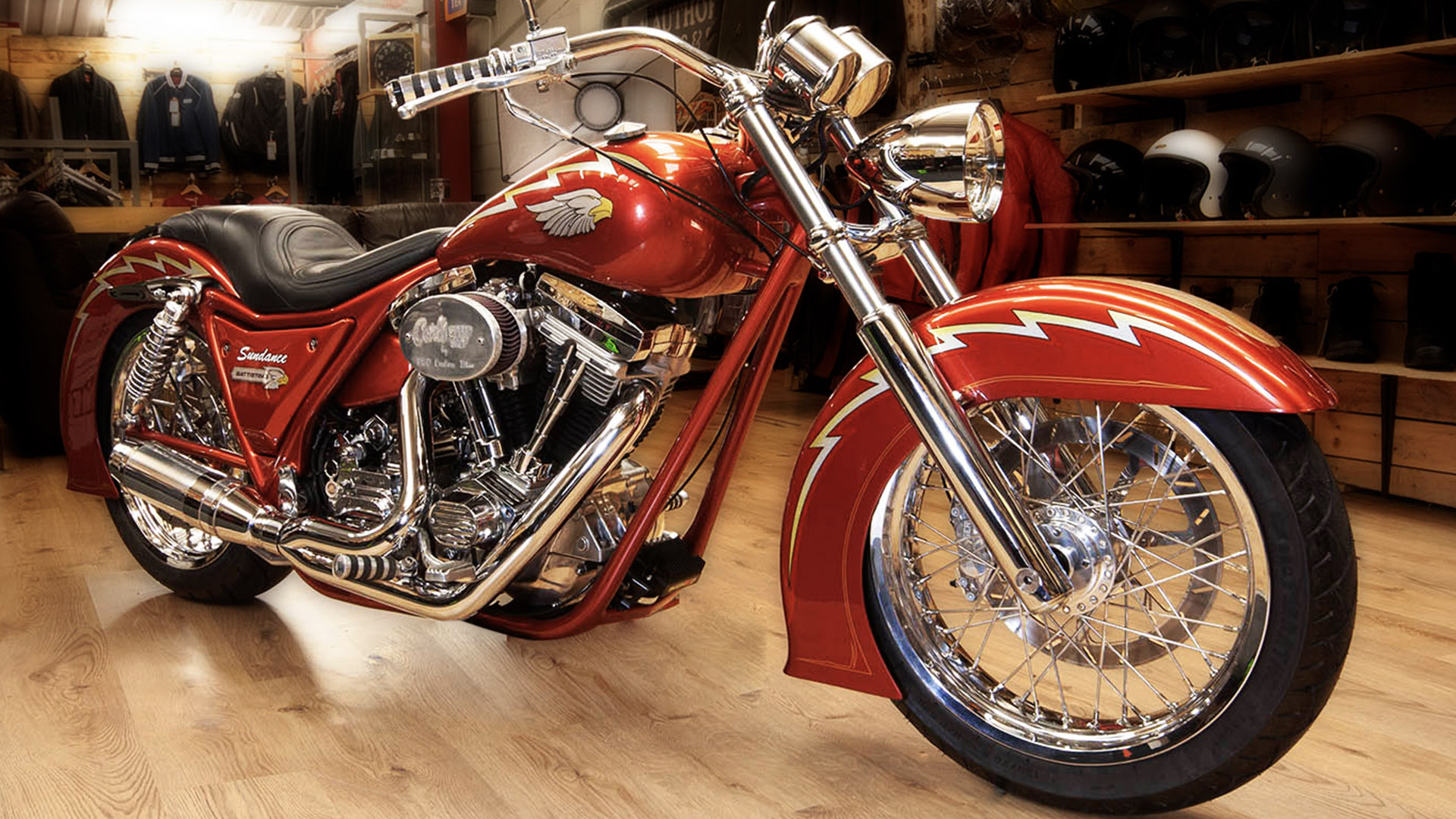 FXRS 88ci Sundance
Custom HarleyDouble 18" Taildragger
FXRS 88ci
SOLD
As is always the case with JETS, any build has its roots firmly planted in recent history. In this case, it is an unashamed celebration of several major figures working together to (try and…) achieve Best in Class.
Namely, Arlen Ness (RiP), Battistinis, Carl's Speed Shop, P&D Customs, Cobra Frames and, last but certainly not least, Jeff McCann (RiP); notwithstanding the many other craftsmen who contributed to this bike's rescue from assured death by crass ignorance…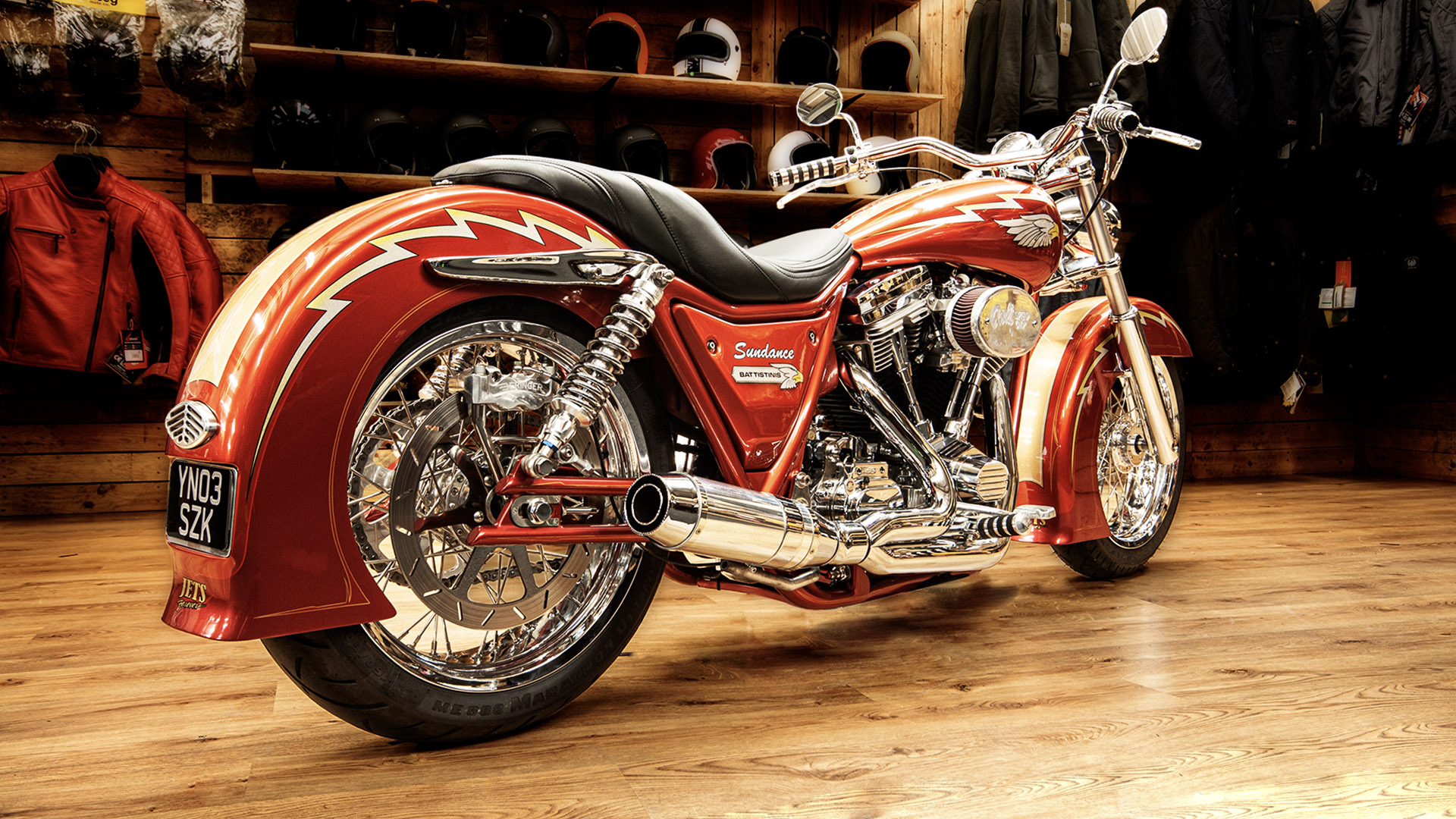 A renaissance indeed… To the point: Chris of P&D Customs, one of JETS favoured workshops, happened to spot on eBay the remnants of a double 18" Taildragger complete chassis and bodywork, which appeared to be in reasonable enough nick to warrant a major restoration.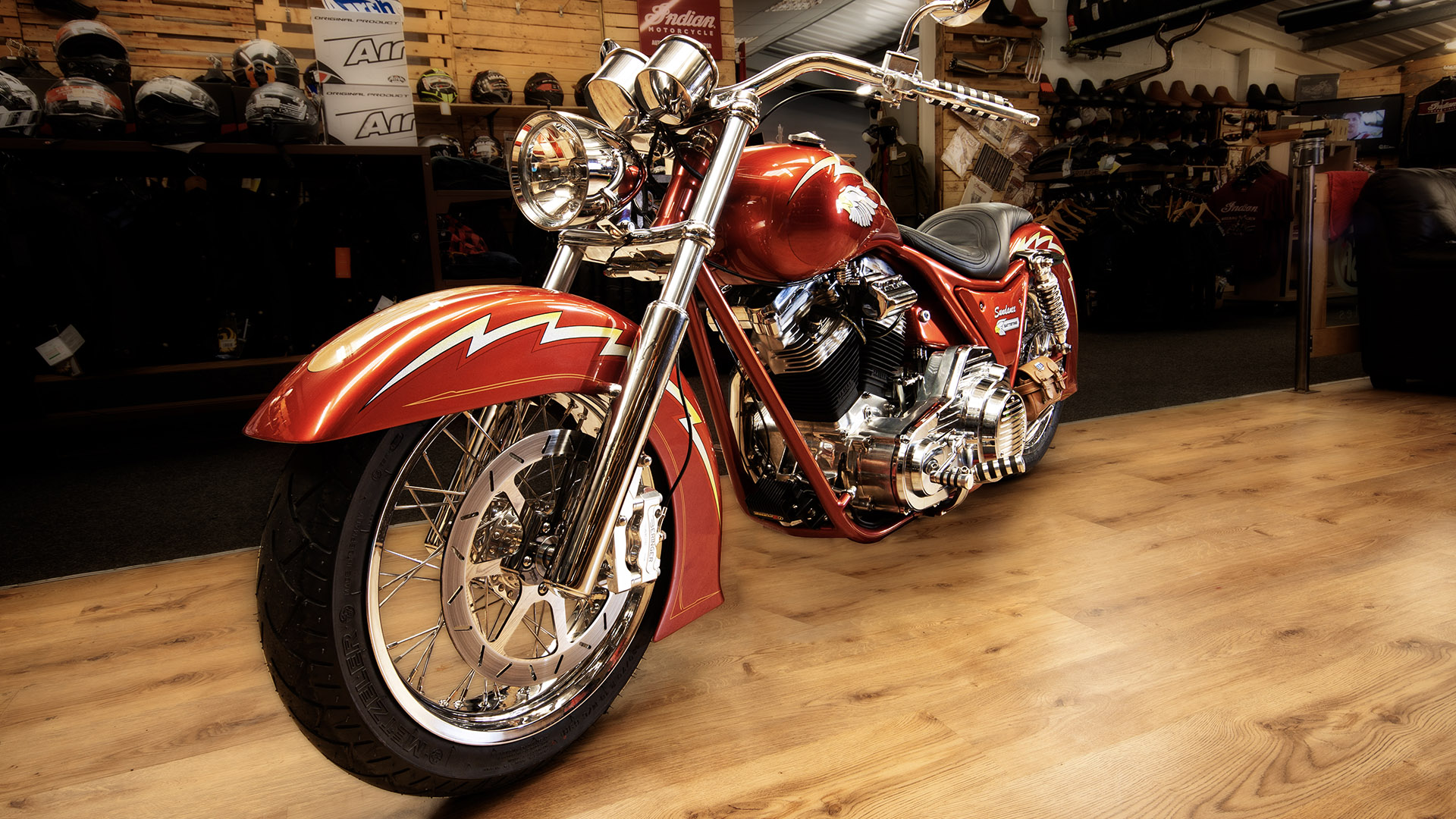 Chris always prompt to smell a legitimate opportunity to feed its emporium with quality work rang JETS' indefatigable Jeff who jumped at the opportunity and secured the sale without further ado; actually preventing the destruction of this iconic piece by someone who wanted to… Repaint it Black !!! Gawd forbid… Okay maybe for the Rolling Stones but not for us.
Here's Sundance in all its glory
You can scroll through this bike's gallery and click on any image to expand.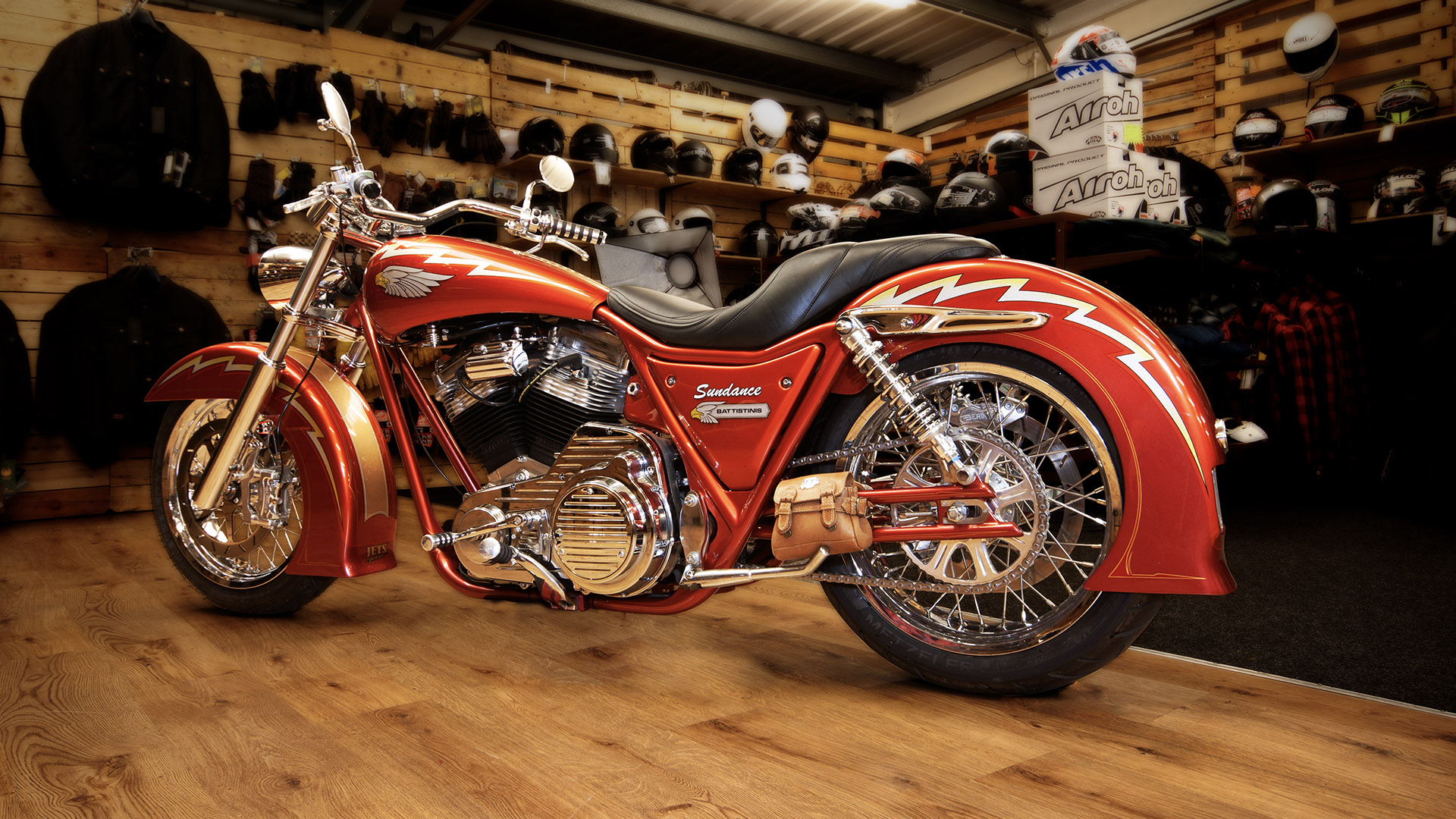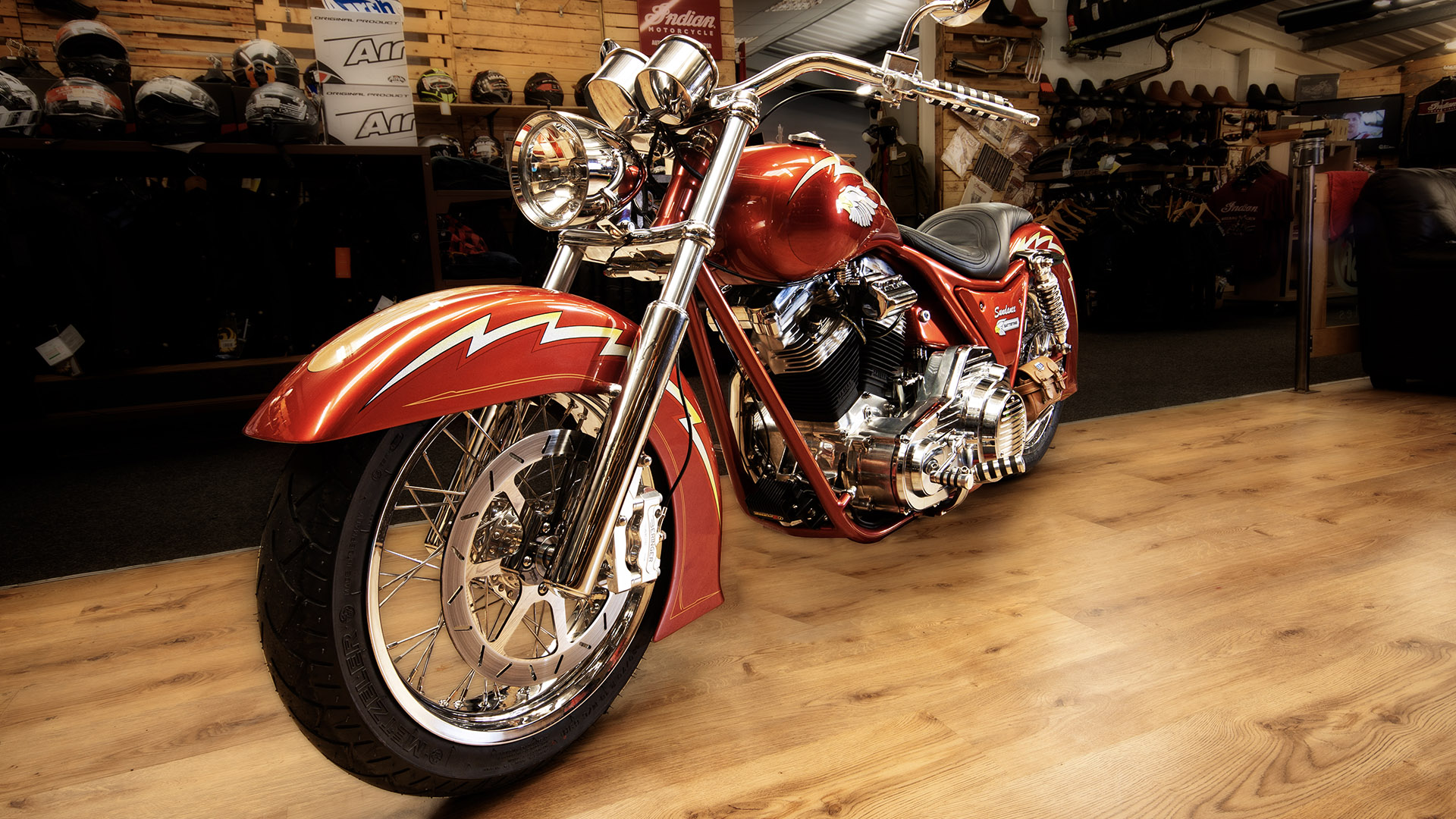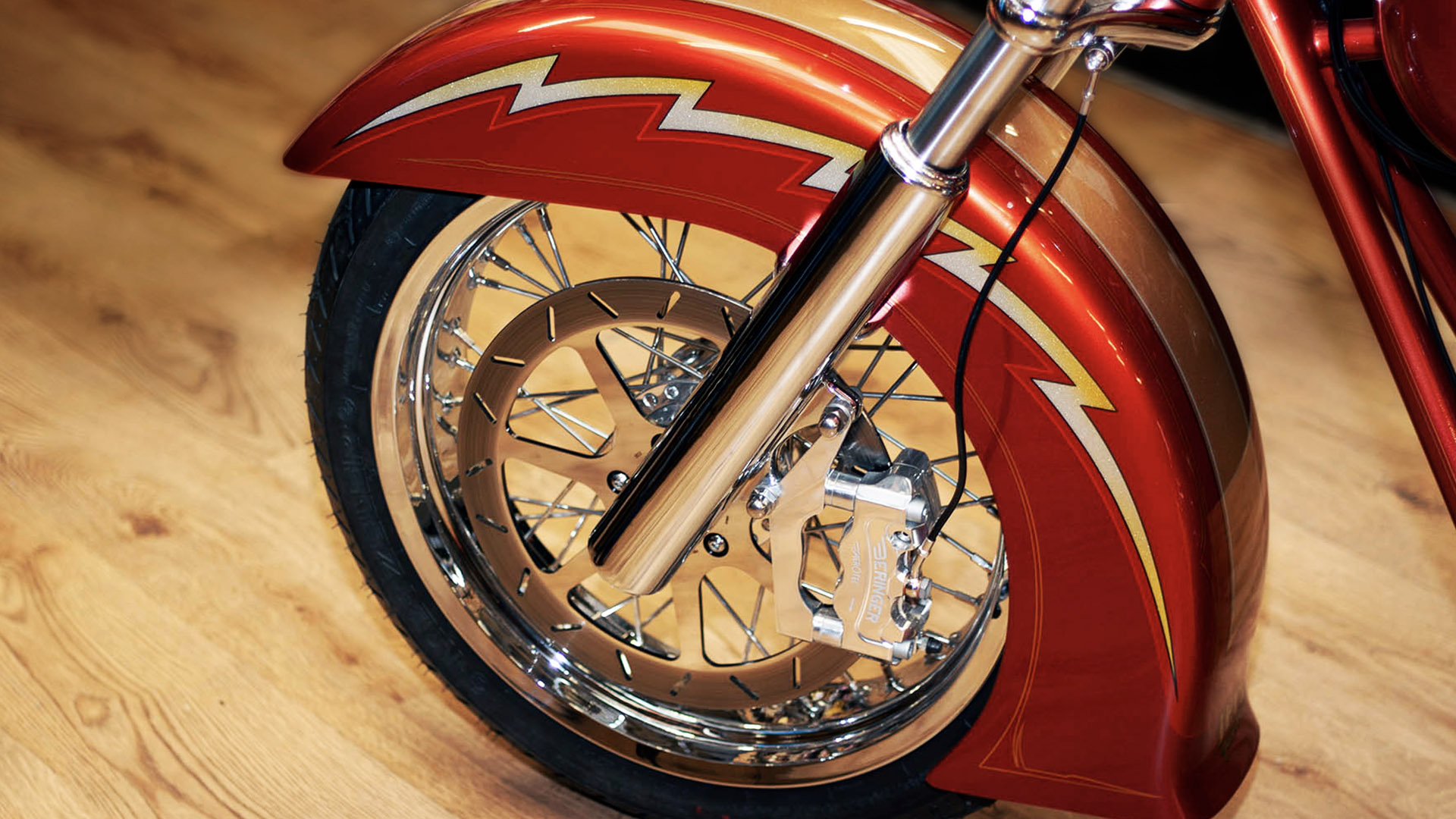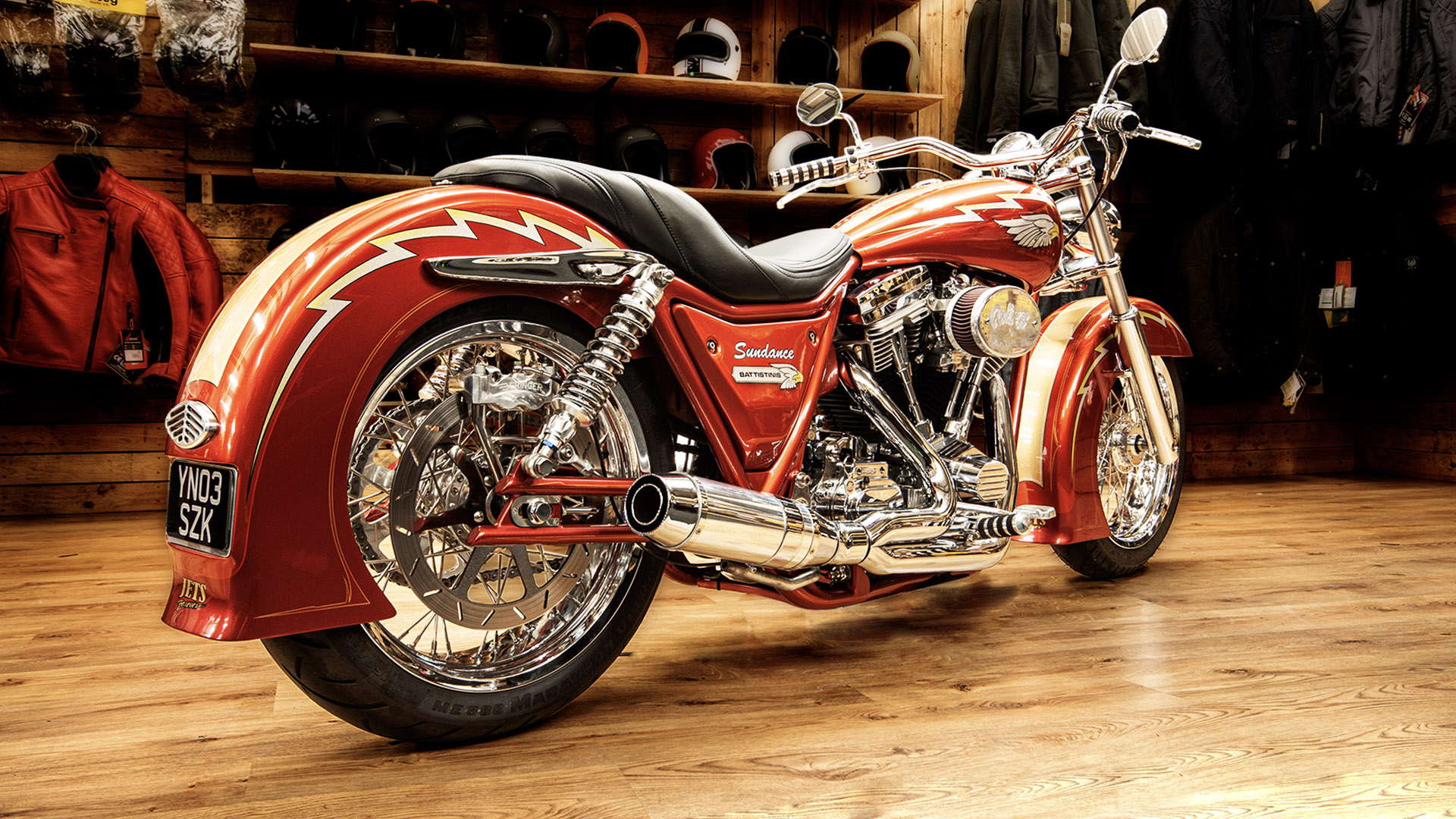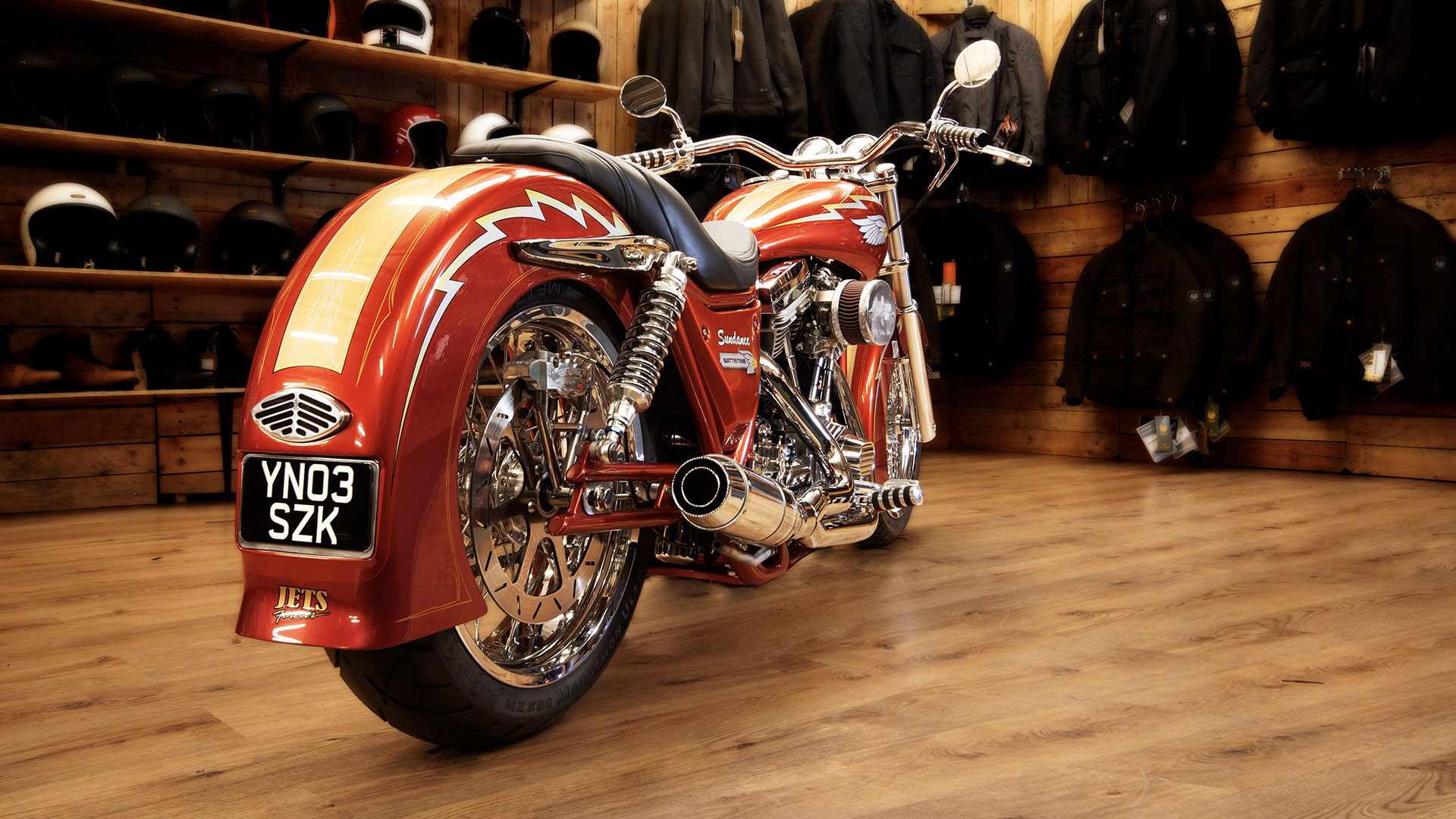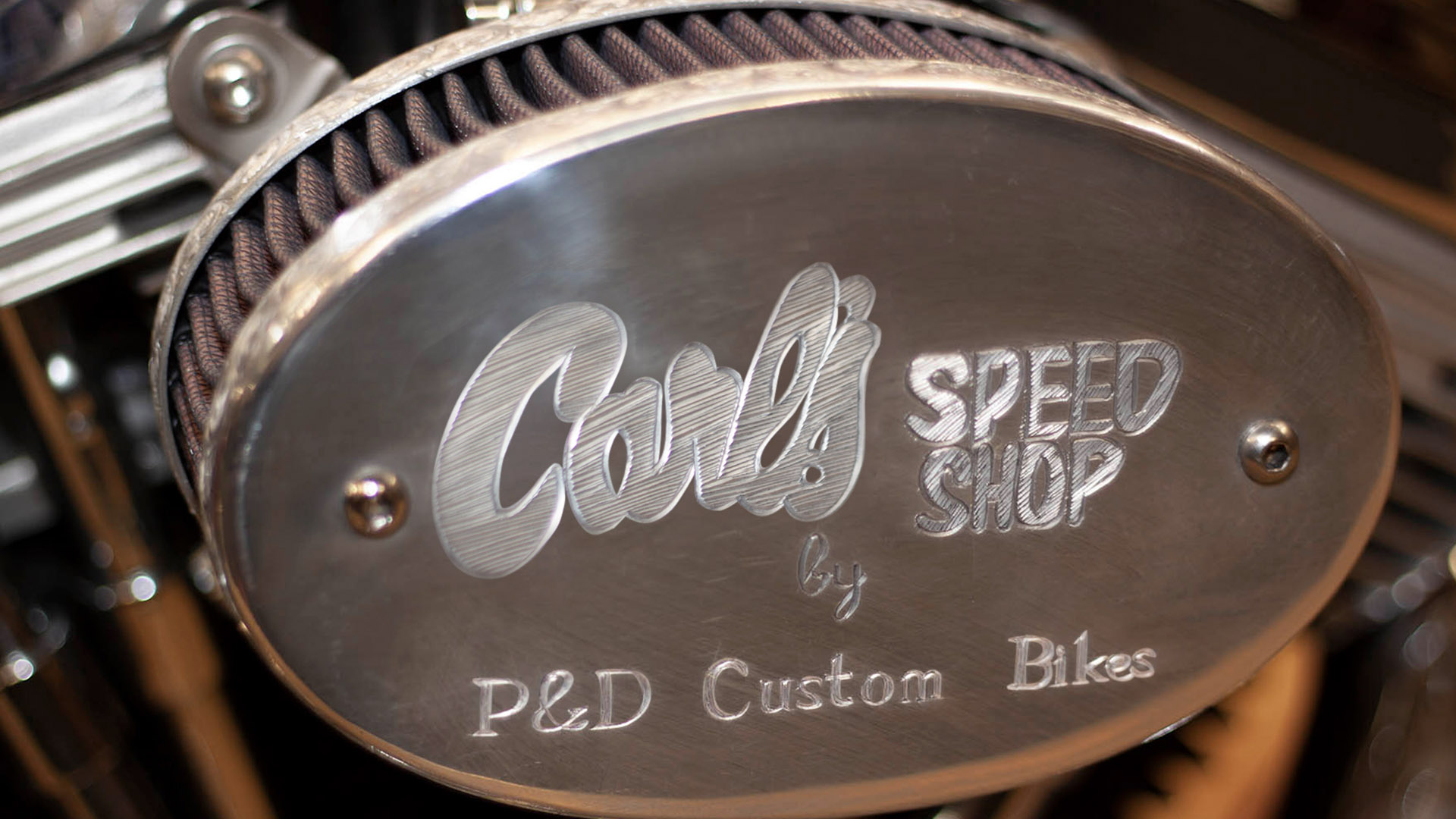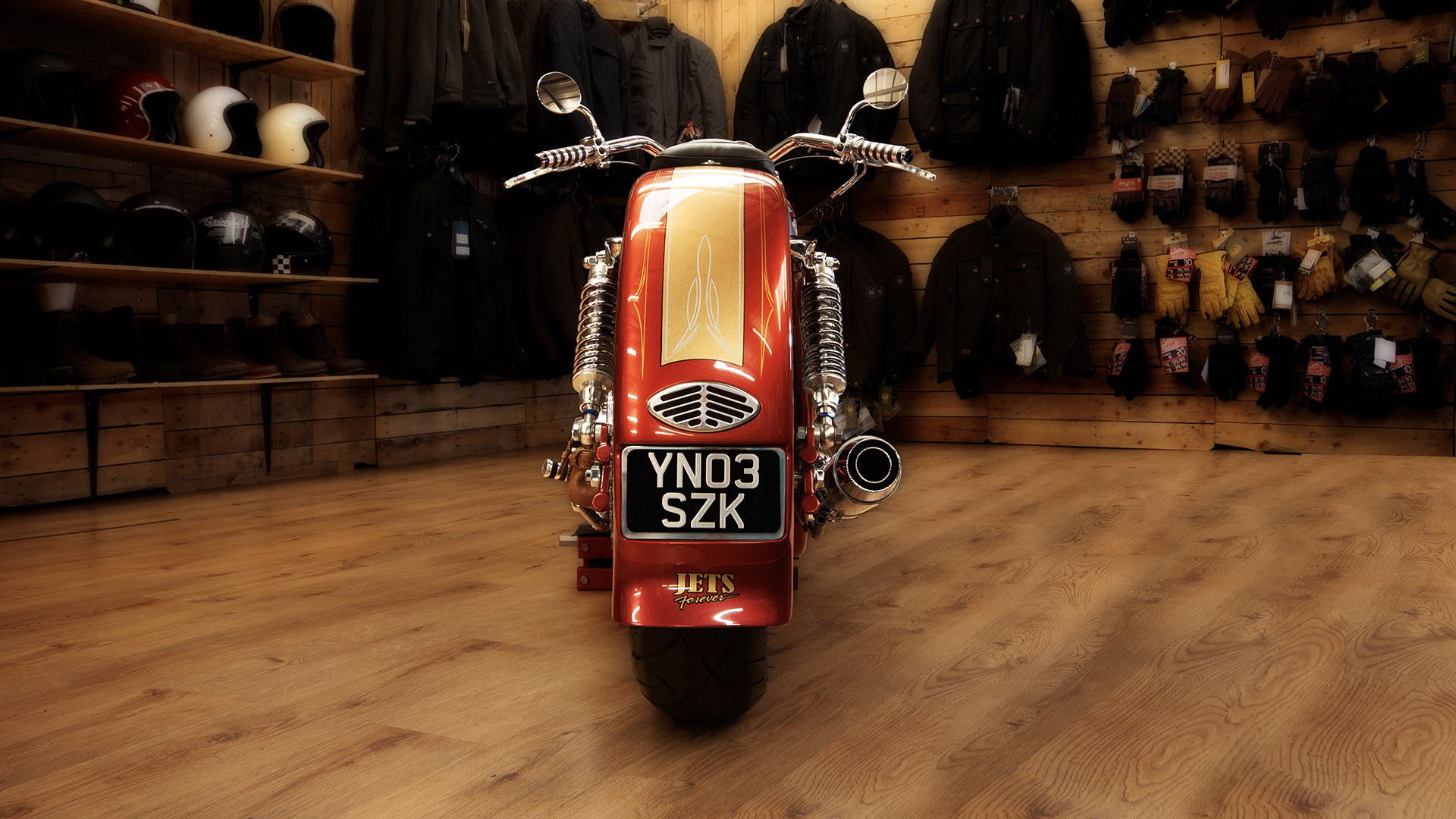 Sundance is on display at Battistinis Custom Cycles in Los Angeles…
Enquire about this bike
---
Technical Specs
General
Design & Build:
Ness / Battistinis / Carl's Speed Shop / Cobra Frames / P&D Customs / Nichols / Batchelar / Duval.
Engine
Carl's Speed Shop in the 90's was offering amazing power and reliability by gas flowing heads adding his own cams, valves and tuning magic. Axtell pistons & iron cylinders bored out to "only" 88ci.
We just recopied Carl's many World Records prescriptions!
Transmission
Rebuilt OEM faithful EVO 5 speed.
Ness primary Billet Cover generously offered by Cory Ness himself.
Final drive by chain for that more businesslike M/C feel.
Chassis
Standard OEM FXR frame with 5" stretch and 37 degree rake by Rikki & Dean Battistini (RiP).
Swingarm by Cobra Frames.
Suspension & Steering
Ness 90's original front forks and bars restored to their former glory by P&D.
Rear race shocks from Jeff's preferred vendor Café Racer Suspension from Budapest.
Wheels & Brakes
Two 18" x 3" chrome alloy rims w/stainless spokes by TTS Germany.
Beringer racing calipers front and rear mated to 13" mirror polished stainless Seven Sins discs by Rick's.
Instrumentation
MC's, levers and perches by Beringer. Classic period grips and pegs by Jay Brake. Electrics controls by Motogadget.
Electronic speedo & tacho on laser cut custom bracket.
Bodywork & Seating
90's iconic West Coast style sporting Double Taildragger fenders, side panels and forks from Ness stables.
Stylish leather seat by the 4ever grand Dave Batchelar of P&D Custom's fame.
Ergonomics
It'll grow on ya…
as Arlen used to say!
Custom Paint
Bay Area Original by the greatest artist ever to live Jeff Mc Cann (RiP).
Beautifully restored in England by Master Tony Pittuck AKA "Stig".
Finish
Per previous, extensive post build PDI by JETS partners Dan Collins and Colin Moore of Moore Speed Racing in Poole, Dorset. GB.
Electrics by Daniel Morris of Mono Motorcycles in Chichester.
Back to Showroom